There are many styles and approaches to trading stocks. But unless you make an effort to learn how to do technical analysis of stocks your chances of making gains on short term trades will be poor.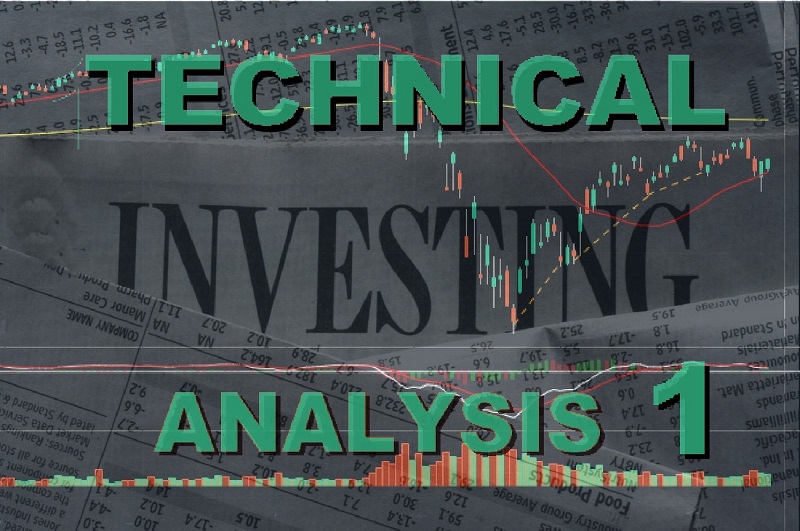 Technical analysis is a big topic and there are many techniques involved. This two-part introduction looks at the main features and puts technical analysis in perspective with other aspects of investing.
Broadly speaking the other main pillars of investing analysis are fundamental analysis and quantitative analysis
Technical analysis – what it is
Here is a more or less textbook definition of technical analysis:
Technical analysis studies past and current price and volume data and looks for patterns and clues to future price movement. The intention is to reduce or eliminate emotions such as greed, fear, or the effects of hype from trading decisions. The process of technical analysis involves collecting as much evidence as possible about a price trend by studying its behavior, then identifying the reversal of the trend. What technical analyst is really looking at is patterns of human behavior reflected in price movements.
The accepted wisdom is that technical analysis should be used in concert with fundamental analysis and that technical analysis tends to lead fundamentals.
When you use the techniques of technical analysis not only are you trying to find patterns in price movements that reveal herd behavior but you are also trying to bypass your own emotions so you don't get drawn into following the herd.
Because technical analysis is used to assist trading and investing decisions aimed at a relatively short time horizon rather than building a long term value portfolio, the only way to beat the herd is to be ahead of the herd. Whereas our emotions will tend to prompt trading and investing action that follows the herd.
Charting – looking for our course
Technical analysis makes use of charts showing price and volume movement over time. Some charts make it easier to see longer-term trends while others are better suited to viewing shorter-term periods.
Line charts plot price changes of a specific stock fund or index over time, usually recording the closing price on any day week or month as a single point on the chart and then joining up all the points with a line. This cuts out the noise of all the price variations that may happen during the period. Line charts tend to be more useful showing price trends over many months or more. But the strengths of line charts can also be weaknesses.
Line charts will not reveal the strength of a price movement. They will also not show up gaps between trading periods. This is more of a problem with short term views if a line chart is used to view daily prices. The line chart will not reveal those instances where a price opened the next day outside the price range of the previous day. Such price gaps can occur when news or events happen outside trading hours. So you really want to know about price gaps if you are looking into trading a particular stock.
The two most popular charts which capture the significant price points during a trading period are the candlestick chart and the Open, High, Low, Close or OHLC charts.
There are many variants of these charts but these are the main ones in use.
They are best explained with examples. Below is
a line chart,
a candlestick chart, and
an OHLC chart
for the State Street Global Advisors Funds, Standard and Poor's 500 Depository Receipt fund which goes by the symbol SPY for the same time ten-day period ending on 18 May 2020.



Straight away we can see there is more information on the OHLC and candlestick charts than on the line chart. Without laboring the point, the OHLC and candlestick charts gives the same information just in a different way. Whichever one you use is just a matter of personal preference. Here are the price points shown in the two charts.

Trading Volume
In order to get a better handle on price movements, we need to know the trading volume. The higher the volume the stronger and more durable the price movement. Conversely, when prices move in thin i.e. low volume trading any gains or losses are more easily reversed when more traders are active in the market.
Low volume trading often happens around holidays. On the flip side, high volume trading happens when there is either strong bullish trading and many buyers are driving up prices or when many sellers are driving down prices. This is what the same ten-day chart looks like with the trading volume displayed below.

In addition to considering trading volume technical analysis makes extensive use of moving averages to gain an understanding of price movement.
When the averages move
Comparing moving averages over different time horizons reveals much about price movements. Two commonly used moving averages are the 30 day and the 150-day moving averages. When the 30-day moving average goes below the 150-day average that is commonly seen as a buy signal, and when it moves above the 150-day average that is seen as a sell signal.
Because of the recent dramatic moves in the Standard and Poor's 500 index, and the market as a whole, the 150-day moving average is far removed from prices over the ten-day period ending 18 May 2020. We need to look at a longer time frame to more readily see both lines. Here is the SPY 1-year chart ending 18 May 2020 showing the volume, the 30-day moving average, and the 150-day moving average.

Support and resistance
Because technical analysis seeks to discern evidence of human psychology in price movements, one of the basic assumptions is that traders are in a certain "head-space" or communal sentiment at any time until that sentiment changes. Assuming that we are a period of somewhat consistent sentiment then technical analysis seeks to identify levels of price support and price resistance.
When the price drops to the level of support, buy orders are triggered in sufficient numbers to drive the price back up. On the other side, where prices rise to a certain level sell orders are triggered in sufficient quantity to drive the price down and that is the level of resistance.
Most of the orders that set support and resistance levels will be sitting pending with brokers ready to execute when the price levels hit them. Effectively, support and resistance orders kick the price movement in the other direction.
However, either external events or market behavior can inspire or provoke a new order to be placed in large and rapid volume. That is when herd instinct, either driven by greed or by fear has taken over.
For the moment, if we consider periods where the same predominant market sentiment prevails, the market price will move between levels of support and resistance. That is until such time as the predominant market sentiment changes and the price breaks through support or resistance until it finds other levels of support and resistance.
Trends
A trend is either:
upwards i.e. bullish,
downwards i.e. bearish, or
flat, sideways also called range-bound.
In a bullish or up-trending market, the price moves up in successive waves each peak higher than the previous peak with the line of support indicated by a line tracing the bottoms of the wave troughs.

A bearish market or down trending market is characterized by successive waves of price movement where the peaks of each successive wave are lower than the previous peak. The line of resistance is shown by a line that traces the peaks of the price waves.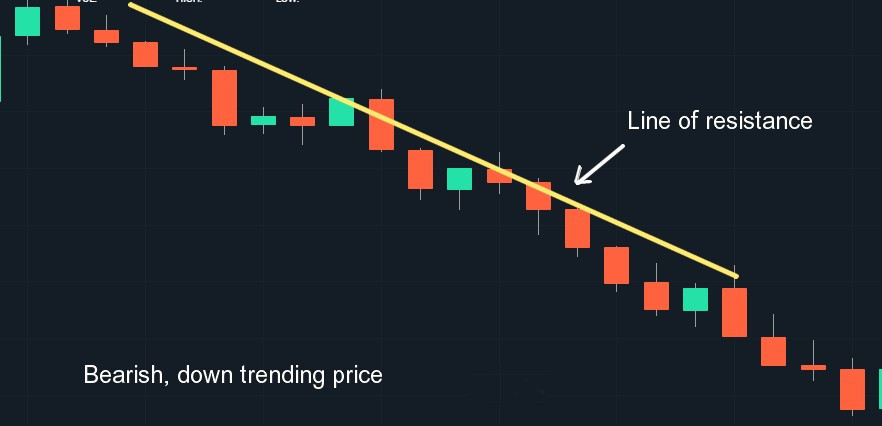 In a period of flat or sideways price movement, the price moves in waves within a range. The top of the range is the upper limit of resistance and the bottom of the range is the level of support.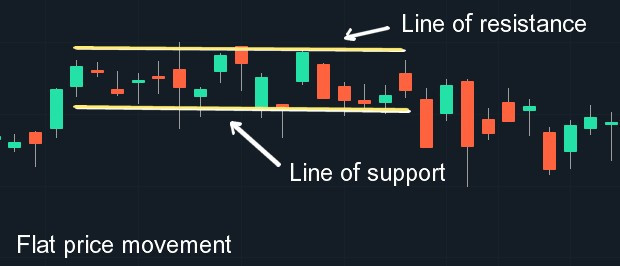 Technical analysis is looking to find when a price trend starts, where there is a trend correction and when the trend is being reversed.
Bounce points
What tends to happen is that as prices move between support and resistance levels, they bounce against these barriers effectively weakening them until the price breaks through. Once either a support or resistance level has been broken the price will continue to move in that direction until it meets the next level or either resistance or support.
This is easiest to see if we look at one trend direction. Let's take an upward trend.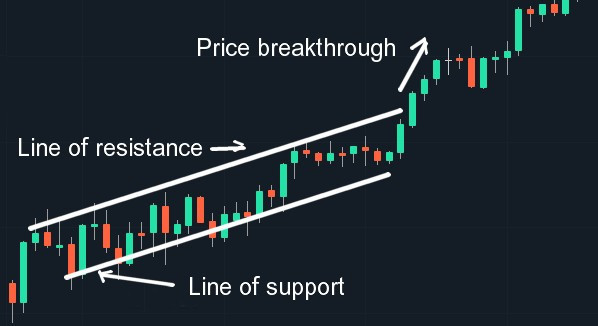 In an upward trending market, a resistance level has already been tested a couple of times and each time met it triggered a large enough volume of sell orders to send the price in a downward direction. But over time more buyers push the price back up again and at some point, the resistance level is broken and the price moves beyond and then further upwards.
As this continues what was the resistance level now becomes a new level of support.
Trend indicators
The meat and potatoes task of a technical analyst is pouring over price and volume charts, looking at moving averages and other visual clues trying to discern indicators of future price trends of either continuation, correction or reversal. This is in part mathematical and statistical but predominantly a visual task.
There are a number of indicators from single candles, double candles, and triple candle patterns. The most common and easiest to spot are the double top, double bottom and head, and shoulders, and inverted head and shoulders patterns. This is what they look like.


In part 2 of this introduction, we will focus on the longer-term patterns and examine other tools of technical analysis. Here is a link to part 2.
To find out more about the history of technical analysis, check here.
I hope you found the first part of this introduction to technical analysis interesting and useful. You can continue to part 2 here. Leave me a comment or any question and I will get back to you soonest. And if you really want to do me a favor, please share a link on your social network. You just have to scroll down a bit to find the buttons.
---
Affiliate Disclosure: This article contains affiliate links, if you purchase through a link on this site, I may receive a commission.
Are you ready to get serious about investing in your own financial education? Then check out membership of the  American Association of Individual Investors, the AAII.
The AAII is a nonprofit organization, dedicated to the financial education of its members. Your membership of the AAII will give you access to courses and resources on stock investing, financial planning, and how to manage your retirement finances.
---
Affiliate Disclosure: This article contains affiliate links. If you click on a link and buy something, I may receive a commission. You will pay no more so please go ahead and feel free to make a purchase. Thank you!
---