Which is the best trading platform for beginners? This review compares some of the most popular brokerage companies suitable for beginning traders and investors and suitable for more experienced and clients with other needs.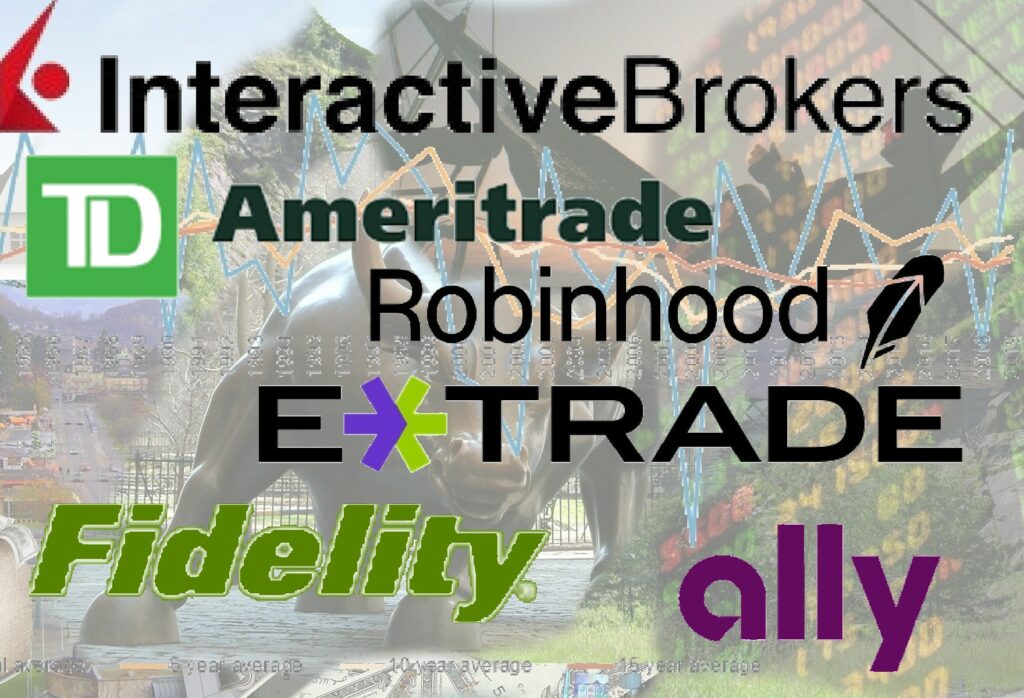 Side by side
FEATURE
Standard brokerage
10/10
10/10
10/10
10/10
Limited
10/10
Stock,

ETF

commissions
0
0
0
0
0
0
Account minimum
No
No
No
No
No
No
Advanced trading
10/10
10/10
10/10
10/10
6/10
10/10
Crypto-
currencies
No
No
No
Yes
Yes
Yes

Fractional shares

Yes
Yes
Yes
Yes
Not yet
Yes
Tools
10/10
10/10
10/10
10/10
7/10
10/10
Backtesting
Yes
Yes
Yes
Yes
No
Yes
Research
10/10
10/10
10/10
10/10
3/10
10/10
Educational materials
7/10
10/10
10/10
10/10
5/10
10/10
Support
8/10
8/10
7/10
8/10
5/10
7/10
On the face of it from the above table, they all look pretty similar from a technical perspective. They each have their own distinct brand and much like car manufacturers, their brands seem to be aimed at attracting different kinds of customers.
---

Ally®
General Impressions – Personally I find the Ally® interface not so intuitive to navigate. It also has a somewhat strange mixture of service offerings, including auto loans and in some states home mortgages largely because of their history. When it comes down to it I don't think you can be a brokerage company that is all things to all people. My feeling is that this rather unusual mix of service offerings distorts the focus of the company. Having said that there are many very satisfied Ally® customers.
The pros – Ally® has the lowest options commissions compared with all its competitors. If you do want all these service offerings through one brokerage provider, then Ally® could be a good choice.
The cons – No cryptocurrency trading. If you are going to rely on your broker for education materials then Ally® may not have the most comprehensive of offerings.
Ally® for beginners – Ally® does offer the service and features a beginning trader or investor needs. If you like the look of Ally® then go for it.
Ally® for other clients – If you live in one of the right US states and you want to get a mortgage, an auto loan, a checking account, debit card, and brokerage account all from one provider, then Ally® may be for you.
For a full review of Ally® for beginning traders or investors, check here.
---

E*Trade®
General Impressions – It is interesting to think back on my first impressions of E*Trade®. I opened a brokerage account with them back in 2002. I was so nervous about them going belly up that I thought once my account reached over $250,000 or whatever the FDIC coverage maximum was back then that I would open an account with a competitor to make sure I didn't have all my eggs in one basket. In my defense, it was a fairly new venture back then and I was more used to putting my money in stodgy old retail banks. In retrospect my fears were unfounded. The platform of 2002 didn't have anywhere near the bells and whistles E*Trade® has now.
In my mind E*Trade® still has that sleek high-tech high-performance brand feel to it.
The pros – The strong features of E*Trade® to my mind are many. The advanced trading platform Power-E*Trade® is excellent. The research tools are comprehensive and the educational materials are extensive easy to follow and well laid out.
The cons – The downside of E*Trade® is that you can't trade cryptocurrencies. It seems frankly a little strange to me that they haven't yet added these features when so many of their direct competitors have.
E*Trade® for beginners – from my own experience I can confirm E*Trade® is a good choice for a beginner investor or trader.
E*Trade® for other clients – because of the extensive features on the E*Trade® brokerage platform, it is also suitable for advanced traders and demanding investors.
For a full review of E*Trade® for beginning traders or investors, check here.
---

Fidelity®
General impressions – My impressions of Fidelity® are that as a brand they promote themselves to attract people who are looking for managed retirement investment products. I think this is also how the public perceives them as a financial service provider. The fact is though that Fidelity® also has a full suite of service provisions for investors and traders including a platform for advanced traders, Active Trader Pro®, excellent financial news and research, analytical tools, and educational resources.
The pros – In addition to its first-class trading and investing platform and supporting resources, Fidelity® allows trading in fractional shares. This means you can sweep dividends into stock positions and stay fully invested.
The cons – Fidelity® does not yet offer access to cryptocurrencies.
Fidelity® for beginners – A beginning trader or investor who likes the look of Fidelity® will find all the resources they need to start investing and trading,
Fidelity® for other clients – People shopping for retirement accounts, managed accounts or investment advice will also be well served at Fidelity®.
For a full review of Fidelity® for beginning traders or investors, check here.
---

Interactive Brokers®
General impressions – Interactive Brokers®, IBKR® for short is a platform aimed primarily at the advanced trader. By implication, the service offerings are less tuned to the needs of the beginner. To try to address this IBKR offers IBKR Pro® which has a monthly maintenance fee depending on account size and trading volume, and IBKR Lite® which has no account minimum, no commissions on US stock, and ETF trades and no maintenance or inactivity fees. The IBKR Pro® commissions schedule on other financial instruments, options, futures, mutual funds are tiered which results in the lowest most competitive commissions for high volume trades. IBKR Pro® also gives you access to a powerful API allowing you to build and run your own automatic trading routines.
The pros – IBKR® offers trading in cryptocurrencies and in fractional shares both of which are advantageous for many investment and trading strategies.
The cons – IBKR® has been slow to move its service to online browser and mobile platforms and at current writing still relies to some extent for advanced features on software that runs on your desktop. Some areas of the platforms aren't intuitive to navigate.
Interactive Brokers® for beginners – IBKR® isn't really aimed at the beginning trader or investor. But if you know you want to progress to advanced trading, this may be the right choice for you.
Interactive Brokers® for other clients – IBKR® is a good and favored choice for active and advanced traders.
For a full review of Interactive Brokers® for beginning traders or investors, check here.
---

Robinhood®
General impressions – Robinhood® is a new kid on the block of retail brokerage providers. Currently, they only offer trading in stocks, ETFs, options, and cryptocurrencies. This is somewhat limited. On the plus side, Robinhood® is very transparent in its business approach and its marketing. Its platform is also conceived for and optimized for mobile i.e. smartphone users. Its research and tools are seriously lacking – you don't get any charts or screeners and I found its educational materials quirky.
The pros – Robinhood® works well on a smartphone.
The cons – It lacks many of the trading features of its competitors. It is also a small young enterprise competing with larger more capable and higher performance providers. The platform has also not performed well in the recent highly volatile markets and there are reports of transactions failing to execute.
Robinhood® for beginners – If you take a close look at Robinhood and still like it then fine.
Robinhood® for other clients – Robinhood® doesn't really have any service offerings other than for the small scale investor and trader,
For a full review of Robinhood® for beginning traders or investors, check here.
---

TD Ameritrade®
General impressions – TD Ameritrade® is one of the major large brokerage platforms for retail investors and traders. Like all its main competitors it offers the retail investor no commissions on stock and ETF trades and no account minimums. You will have access to all other kinds of financial instruments including cryptocurrencies and be able to trade fractional shares. As a client, you will have access to a powerful array of research materials, analytical tools, and extensive educational resources. TD Ameritrade® also has some powerful strategy testing tools and an API interface allowing you to build and run automated trading systems.
To find our more about automated trading systems, check here.
The pros – TD Ameritrade® offers a powerful suite of service and a solid trading platform.
The cons – If there is any downside with TD Ameritrade® its that is was recently acquired by competitor Charles Schwab® and that casts a cloud of uncertainty over its future. In spite of the acquisition for the moment both companies continue to market themselves and operate separately. Schwab's plan for integration has been delayed by the recent market turmoil due to the Coronavirus pandemic.
TD Ameritrade® for beginners – TD Ameritrade® services are very accessible for the beginner. The open question is what will be the impact of the acquisition by Schwab®.
TD Ameritrade® for other clients – TD Ameritrade® offers many retirement investment products, investment advice, and managed accounts suitable for clients looking for someone else to take care of investments for them.
For a full review of TD Ameritrade® for beginning traders or investors, check here.
---
I hope you found this comparison of retail brokers useful. Do leave me a comment, a question, an opinion or a suggestion and I will reply soonest. And if you are really inclined to do me a favor, scroll down a bit and click on one of the social media buttons and share it with your friends. They may just thank you for it.
---
Affiliate Disclosure: This article contains affiliate links. If you click on a link and buy something, I may receive a commission. You will pay no more so please go ahead and feel free to make a purchase. Thank you!
Are ready to get serious about investing in your own financial education? Then check out membership of the  American Association of Individual Investors, the AAII.
The AAII is a nonprofit organization, dedicated to the financial education of its members. Your membership of the AAII will give you access to courses and resources on stock investing, financial planning, and how to manage your retirement finances.
---