Could Ally offer the best trading platform for beginners? This is a review of Ally's services, the pros, and cons from the perspective of the beginning trader or investor.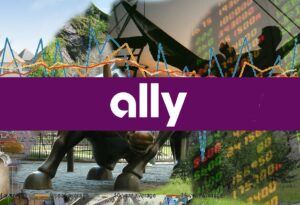 Name: Ally
Services provided: Financial services provider.
Price/Fees: zero/low, no account minimum
Website: https://www.ally.com/
Main features: One-stop shop for retail financial services for individual investors.
My rating: 4 out of 5
---
Ally at a glance – for the beginning trader
| | |
| --- | --- |
| Standard brokerage | Yes |
| Cryptocurrencies | No |
| Fractional shares | Yes on dividend reinvest |
| Research tools | 10 of 10 |
| Tutorial resources | 7 of 10 |
| Support | 8 of 10 |
---

Ally, who is it for?
Ally is one of the older retail financial service providers. It was founded in 1919 by General Motors as a bank for financial automobile loans. It still has that part of the business but has expanded its range to cover many other areas:
Retail banking – regular checking, savings accounts, ATM debit cards
Savings and Retirement accounts –

CDs

and IRAs
Automobile financing – of loans and leases.
Mortgage loans – only available in some US States, all the usual fixed and variable, and

refinance

options

.
Brokerage accounts – for traders and investors.
Managed investment accounts – have Ally do it for you.
---
Brokerage commissions/fees
With no account minimum, Ally's brokerage account offers zero-commission trades on stocks priced at over $2 per share, certain ETFs and options while a per contract fee of $0.50 applies to options. They charge a commission of $4.95 on shares whose price is between $0.01 and $2, a fee of $1 per bond, and a fee of $9.95 on mutual fund trades.
---
Brokerage platform
Ally's trading platform gives you access to trade:
Stocks

ETFs

Options

Bonds

Mutual funds
Forex
With a brokerage account, you can opt to have dividends of shares whose price is above $4 reinvested automatically.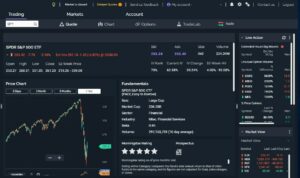 Ally provides fractional shares to enable this feature. You can opt for this to apply to your whole portfolio or just to select shares. All shares whose price is at least $4 and are exchange or NASDAQ traded are eligible. Some ADRs are also eligible.
The Ally brokerage gives you access to a comprehensive desktop platform and a mobile app that allows you to monitor your account and trade on the go.
---
Brokerage tools, research, and resources
Ally's trading tools include,
Charts – eight kinds of customizable and interactive charts including candlestick, mountain, bar, and line can be used to analyze the performance of

stocks

, ETFs, and market indices.
Customizable watchlists – for individual or groups of stock
Profit and loss calculator – to analyze the potential outcomes before placing a trade
Probability calculator – a tool that uses implied volatility to determine probable outcomes
Research and news – on any stock, Company quotes, news, market statistics, price highs and lows, dividend dates, and peer comparisons.

ETF

screener – research ETFs by category, name, price range, or expert rating. Research and analyze price performance.

Options

chains – a display of available

options

chains
Mobile app – for monitoring and trading on the go
Customizable screeners – for

stocks

, ETFs, mutual funds and backtesting

stocks
---

Retirement accounts and Certificates of Deposit – CDs
Ally offers retirement accounts in the form of IRAs linked to CDs. Ally offers three kinds of IRAs:
Traditional

IRA

– make pretax contributions, pay taxes when you withdraw upon retirement.

Roth IRA

– eligible for tax-free growth and withdrawals. Maximum

income

restrictions do apply.

SEP IRA

– for small business owners, provides tax-deferred growth.
These IRAs can be linked to three kinds of CDs:
IRA

High-

Yield

CD – 3 months to a 5-year term,

IRA

Raise Your Rate CD – 2 or 4-year term

IRA

Online Savings – offers a

fixed interest

rate, currently 1.5 percent.
---
Managed portfolios
Ally offers managed portfolios with a minimum of only $100 and very low fees. There are no annual fees and no setup fees. An Ally adviser, as in a person, will help you chose your plan. There are four plans to chose from and with some, you can adjust the level of risk you accept.
Income

– maintains a conservative,

risk

-averse approach
Core – domestic and international diversified fix-

income

assets

– the

risk

profile can be adjusted between conservative to aggressive.
Tax optimized – this plan allows after-tax contributions and can give tax advantages when you start to withdraw.
Socially responsible – invests only in companies with good track records in energy efficiency and environmentally sustainable practices.
Once you select your plan Ally maintains 30 percent of your balance in cash, earning interest. Your account is managed daily by smart software which takes care of any necessary rebalancing. There are no annual fees.
---

Retail banking, auto, and home loans
Probably partly because of its history, Ally offers many of the financial services that a private individual would typically need.
Ally has checking and savings accounts with ATM debit cards.
Individuals and businesses can obtain vehicle financing through Ally including flexible loans or leases and with vehicle protection plans covering service and repairs.
Ally can provide 30-year fixed, 15-year fixed, and adjustable-rate mortgages. Mortgages are only available in some US States. The Ally website includes an affordability calculator allowing you to calculate the price of the house you can afford as a function of your income, credit rating, and monthly expenses. They also have a monthly payments calculator which will show you your monthly payment options calculated from the home price, your credit rating, and depending on whether you chose 15 or 30-year fixed term.
---
Ally educational materials
Ally's educational materials cover all the retail finance areas that their services provide. These educational materials include articles, videos, courses, and live events. As for the subject matter, their materials cover:
Life events – career, college, family, retirement, travel, and wedding
Money – budgeting, credit, estate planning, saving and taxes
Banking – financing home purchase and improvements and car
Investing –

stocks

,

bonds

, ETFs, and

options

.
The educational is not really aimed at the beginning trader or investor. It is more suited for planning personal finance and general life events. All important stuff, but not really the focus that a beginning trader is going to be looking for. Also, one of the overwhelming messages of Ally's investment advice promotes fixed interest instruments. At a time when interest rates are at all-time historic lows, this isn't really an attractive or even particularly useful song to be singing – My opinion.

---
Ally – the pros – for the beginner
For the beginning trader and investor Ally does provide a robust platform and like its main competitors offers zero-commission trading, very low account minimums, and currently the lowest per contract charge of $0.50 for options.
---
Ally – the cons – for the beginner
Ally doesn't rate highly on the Better Business Bureau, but that seems to be because it didn't handle well the few complaints it received. The lack of cryptocurrency trading is also a disadvantage for many traders.
---
Ally – how does it rank?
I'd say 4 out of 5. Ally has a lot of fans even though it doesn't seem to me like a great place for beginning traders. I guess I don't find the educational materials exciting enough. However, Ally does give you the lowest rates on options trading out there. To see how Ally compares with its main competitors, check here.
---
My recommendation
If you are a beginning investor or trader looking for a brokerage account and you like the look of Ally, then I'd say go for it.
---
Affiliate Disclosure: This article contains affiliate links. If you click on a link and buy something, I may receive a commission. You will pay no more so please go ahead and feel free to make a purchase. Thank you!
---