There is a lot of talk these days about active vs passive income. Active income brings to mind images of grinding away at a tedious office job for long hours, year after year just to earn barely enough to buy food, pay the rent, and clothe the children. Passive income on the other hand evokes images of lounging on a terrace on a Caribbean island sipping cocktails as the sun sets over the sparkling azure blue sea. You glance down at an app on your smartphone and see that you've earned another few hundred dollars since you last checked just before dessert was served. So you ask, what is active investing vs passive investing and can I please have the passive one and reserve my spot on the terrace watching the sunset already.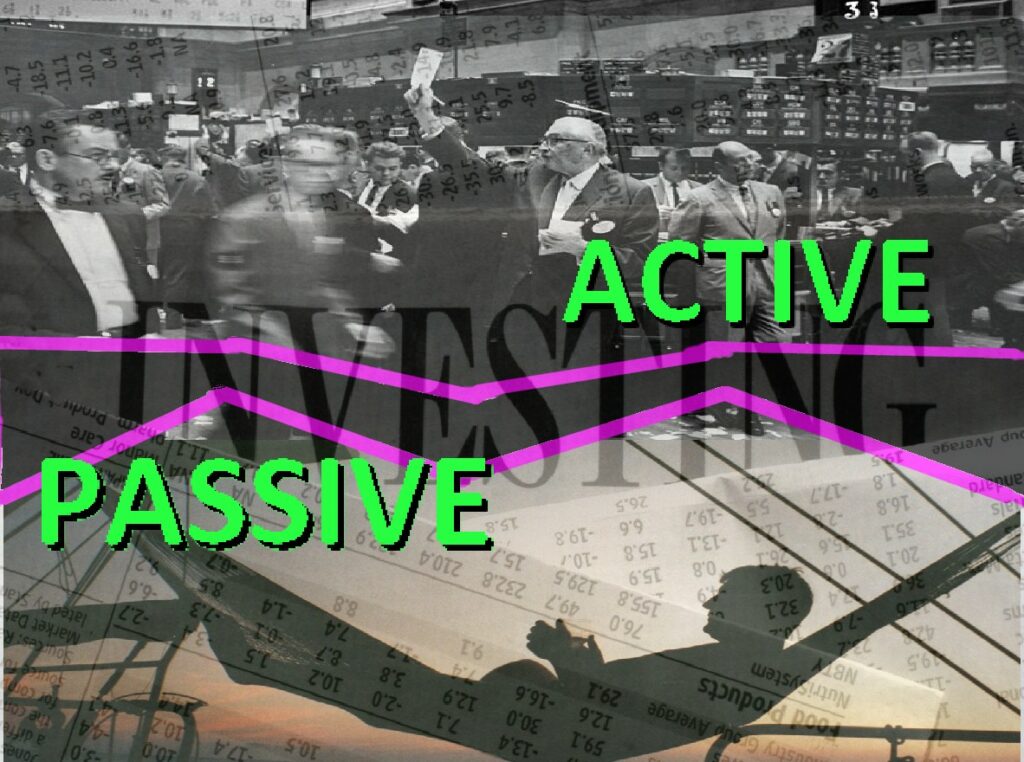 There are similarities of course between active and passive income and investing. But unlike a discussion over active and passive income, which is frankly used more frequently to draw gullible audiences into some get-rich-quick scheme or other, active and passive investing are real things.
OK, that isn't fair. There is such a thing as passive income. Passive income is a stream of income you get after you've done all the long hours of work and struggle usually building an income-generating asset such as a business that once set up runs with little maintenance. But for our purposes here, we are considering active investing compared with passive investing.
How active?
Interestingly, most people have an image of a successful investor as being someone who expends a great deal of time, energy, and attention on the craft of investing. Exposed as we all are to the vast financial media machine that talks about stocks, bonds, options, futures, forex, cryptocurrencies, charts, bullish and bearish trends bombarding us from the internet, TV ads, magazines and newspapers, it is easy to form the assumption that active hands-on investing yields the best results.
Quick aside – It doesn't matter whether it is you, the investor or a fund manager doing the trading, if trading decisions are being made on an ongoing basis trying to beat the market then it is active investing.
After all, we could say to ourselves, why shouldn't investing be like any other highly professional skill like a microbiology, rocket science or brain surgery that takes years of study and practice.
So here's a question. If that were so obviously the case why would there be debate over the merits of active vs passive investing? There is no public debate that I am aware of over professionally qualified brain surgery vs an amateur backstreet variety.
That's easy, you could say. The whole idea that passive investing could be a thing and a thing that succeeds is just another example of some huckster hype to get gullible souls to sign up for another get-rich-quick scheme on a promise that they can amass a fortune, passively. That's a good point I admit.
It feels like I am arguing on both sides of the case here, and maybe I am. But trying to swim against a current of popular assumptions can be challenging.
How passive?
Passive investing is following a routine automated investment plan that requires no thought or decision process after you've decided to put it in motion. The simplest, and in many ways most effective is to set up automated payments from a checking account for example into an index-linked fund that just automatically mimics the composition of a market index, whichever index that may be.
Passive investing used to be possible only for investors with large enough portfolios of stocks to achieve the level of diversification necessary to mimic a market index. In the 1970s index-linked mutual funds were available and then in the early 1990s ETFs mimicking the major indices were available making the whole business cheaper and more accessible for all of us. To learn more about ETFs, check here.
Passive investing adopts a buy and hold strategy and doesn't try to time the market. The passive investor accepts the market downturns that come from time to time but takes a long-term view. Over the long-term, the market will return somewhere around 15 percent a year as long as you just stick with it. If you want to check what the long-term performance of the US stock market looks like, check here.
The long-term buy and hold nature of passive investing has advantages. Because most of the stock positions held in the fund will not change much from year to year and will mostly be held for many years, most of the fund's gains will be capital gains taxed at a lower rate than income. It is also easy to set up a passive fund in a tax-deferred or tax-advantageous retirement fund.
How do they compare
Setting aside the glamour of high-flying stock trading, actively managed funds offer the possibility of beating the market. However, that same possibility can be a trap and it comes at a cost in the form of management fees.
The fee structures of funds is usually set percentages of the asset holdings deducted every year. The percentage scales may be tiered with the percentage dropping to a minimum of a range as the value of your holdings exceeds a maximum but the principle of the annual fee structure based on the total value of holdings tends to be fixed.
Actively managed funds attract investors on the basis of their track record. In some respects, the fee structure encourages fund managers to ensure that they benefit to the maximum from any bull market but not necessarily that they take care to avoid losses during a bear market. Let's remember, the fund manager's fees are based on the value of investments under management so a 25 percent drop in a big bear market is something to worry about but not as much as the risk of missing out on a bull market that adds 70 percent to stock valuations.
And that is another aspect of investing in an actively managed fund. That is rather than investing in a stock of a company run by a management team you will be investing in the skill of usually a single individual fund manager. Well, you will have to hope that the fund manager will be consistently having good days and very few bad days and that he or she stays on course.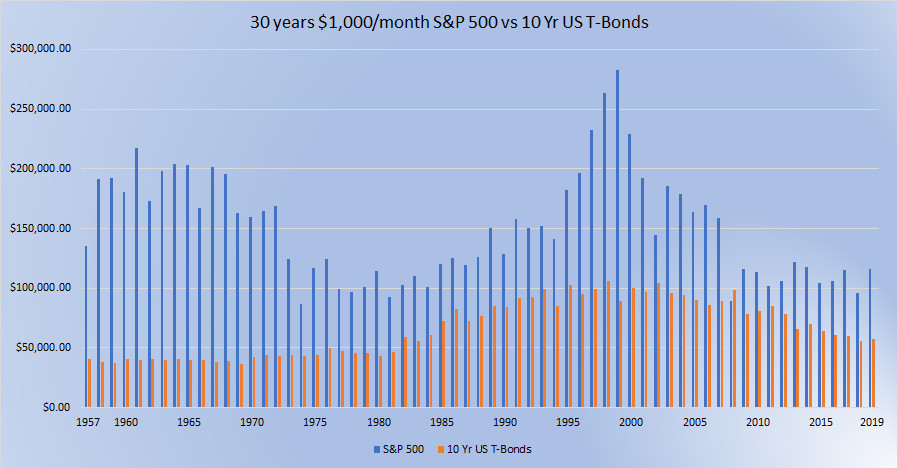 Active investing – the pros and cons
The pros of active investing are
flexibility, and
the opportunity to beat the market.
The cons of active investing:
fees that erode your gains, unless you do it yourself, and
the possibility of underperforming the market.
Passive investing – the pros and cons
The pros of passive investing:
runs automatically with no maintenance
achieves predictable gains over the long-term
low cost
tax advantages
The cons of passive investing are
no chance to beat the market
lack of flexibility
Active vs passive investing performance
As noted above the attraction of active investing is the possibility to out-perform the market.
The fact is that over any long-term of about 10 years or more, most active funds under-perform the market and hence equivalent passive funds. 1)Wharton, University of Pennsylvania, Executive Education, Newsletter, Active vs. Passive Investing: Which Approach Offers Better Returns?
There will be other considerations for high worth individuals that could lead them to actively managed funds such as hedging the risks of losses but for most investors building a long-term nest egg, investing in one or more passive index-linked funds is most likely to yield the best results.
Here is a single-page summary of active investing vs passive investing.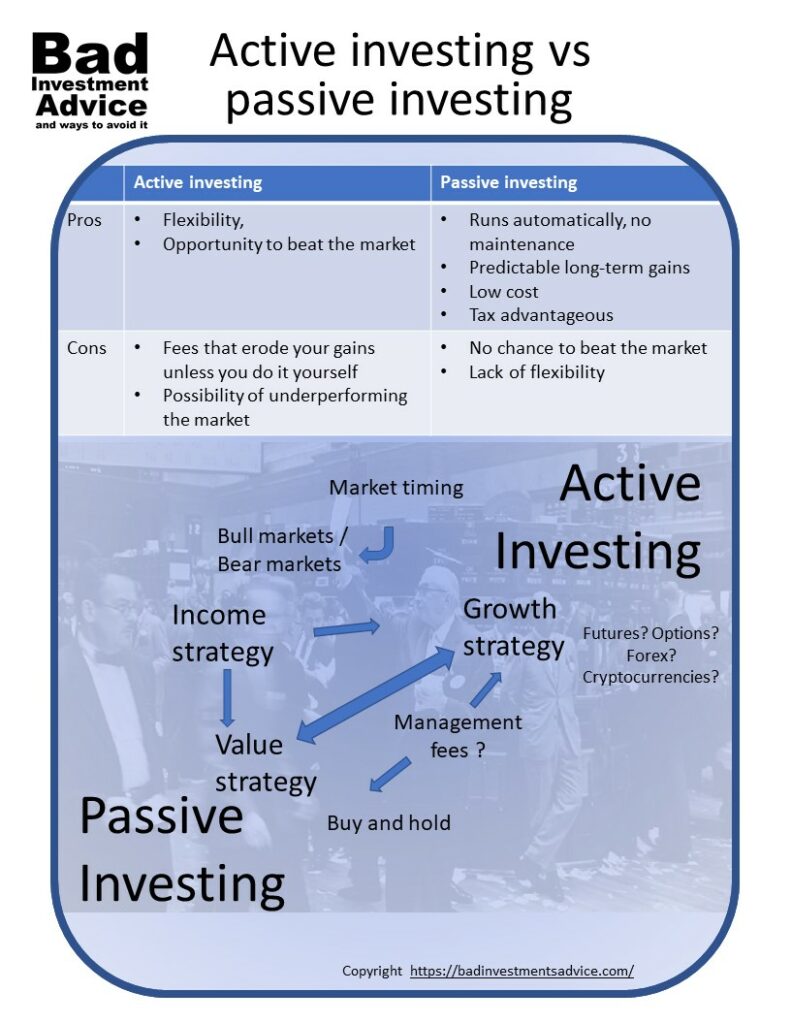 I hope you found this explanation interesting and useful. Do leave me a comment, a question, an opinion or a suggestion and I will reply soonest. And if you are really inclined to do me a favor, scroll down a bit and click on one of the social media buttons and share it with your friends. They may just thank you for it.
---
Affiliate Disclosure: This article contains affiliate links. If you click on a link and buy something, I may receive a commission. You will pay no more so please go ahead and feel free to make a purchase. Thank you!
---