Could E*Trade be the best trading platform for beginners? This is a review of E*Trade's services and what it offers for the beginner.
Name: Etrade
Services provided: Full integrated suite of financial services.
Price/fees: low depending on services used
Website: https://us.etrade.com (in the USA, depends on your country)
Main features: One-stop shop for all financial services for individual investors.
My rating: 4.5 out of 5
---
E*Trade at a glance – for the beginning trader
| | |
| --- | --- |
| Standard brokerage | Yes |
| Cryptocurrencies | No |
| Fractional shares | Yes |
| Research tools | 10 of 10 |
| Tutorial resources | 10 of 10 |
| Support | 8 of 10 |
---

E*Trade – who is it for?
E*Trade services are targeted at four different kinds of customers:
Brokerage accounts
Retirement accounts
Small business retirement accounts
Managed portfolios
Retail banking accounts
Individual Investors and Traders
The E*Trade brokerage account is targeted at the individual investor looking to trade any combination of stocks, bonds, options, futures, ETFs, and mutual funds.
The brokerage account allows you to place buy or sell orders at the market, market on close, limit, stop on quote, stop limit on quote, trailing stop in $ terms, or trailing stop in percentage terms. These capabilities are far more refined and powerful than any beginning investor is going to need. But you will have them at your disposal should you ever need them.
The basic brokerage account includes access to a vast array of flexible analysis and research and informational tools including analysis of US Markets, Global Markets, News, Stocks, Options, Mutual Funds, ETFs, Futures, Bonds and CDs, Planning Tools, Thematic Investing approaches and an area just called – Knowledge which offers – guided overviews on major topics, in-depth articles, videos, and our complete educational library.
Power E*TRADE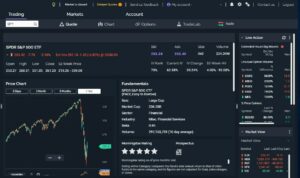 There should be no doubt that Power E*TRADE is the flagship product. It's what you will see on the laptop screens of
E-Traders in the TV commercials. Power E*TRADE offers a dazzling array of professional-looking charts, indicators, and automated trading capabilities. This is definitely not beginner territory.
Need to roll over an old 401k or open an IRA?
E*Trade has many financial services for retirement planning including:
Rollover of old

401k

plans from former employers.

Roth IRA

tax-free retirement investment accounts.
Traditional

IRA

's allowing tax-deductible contributions, pay the tax when you withdraw the funds.
Beneficiary

IRA

's allowing tax-deductible contributions for a beneficiary.
IRAs for children with earned

income

.
Convertible IRAs for retirees. To give access to cash, checking, online banking, and ATM debit cards.
Retirement solutions for small businesses

Small business from the self-employed to companies with fewer than 100 employees have a number of retirement solutions at E*Trade"
Individual and Roth Individual

401k

Plans – for the self-employed and spouses, allowing high limits on contributions, tax-deferred growth.
SIMPLE IRAs – for companies with fewer than 100 employees these plans work like 401ks, allowing employees and employers to make matching tax-deductible contributions.
SEP IRAs – for the self-employed individual and small businesses.
Profit-sharing plans – for small businesses. Employer contributions are tax-deductible and amounts invested can vary from year to year.
Investment-Only – a non-custodial retirement investment plan offering a broader range of investments for businesses that already have an established retirement plan.
Want a professional to manage your investments?
E*Trade offers a range of managed portfolios depending on the sum invested.
Core portfolios – give access to a managed diversified portfolio with as little as $500. E*Trade charges an annual fee of 0.30 percent for the advisory service.
Blend portfolios – you can work with an E*Trade consultant to build a tailored portfolio of mutual funds and ETFs that is then managed for you. Blend Portfolios are available if you invest at least $25,000, annual fees for the advisory services range from 0.65 to 0.90 percent.
Dedicated portfolios – these are custom-built according to your goals. You get a professionally managed diversified portfolio of

stocks

, mutual funds, and ETFs. Dedicated portfolios require a minimum investment of $150,000 and annual fees range between 0.95 and 1.25 percent.
Fixed

income

portfolios – give you a portfolio of

bonds

professionally designed and managed to meet your needs. An investment of $250,000 will give access to a Fixed

income

portfolio and annual fees range from 0.35 to 0.75 percent.
Regular retail banking
E*Trade also offers regular retail banking services including checking, money market savings accounts, ATM/debit cards, and a line of credit. It probably only makes sense for existing customers who have other brokerage or retirement accounts to use E*Trade retail banking services. The line of credit makes use of the assets that you pledge in your other accounts as collateral. The interest rate you will pay varies depending on the value of your investments excluding any retirement accounts that you pledge to your line of credit. Pledge less than $50,000 and you will be charged the maximum, pledge 10 million or more and you will pay the minimum.

Pledging funds as collateral for your line of credit also places limitations on what you are allowed to do with the pledged funds. You will be allowed no margin borrowing, no margin or options trading, and cash management features on your account including bill pay, writing checks, using your debit card, electronic funds transfers, and wire transfers will be disabled.
---
Tools, Research, Analysis, and Tutorials
E*Trade has massive research and analysis resources on the site. Many of these resources are for experienced investors but there are also easy to follow tutorial videos that lead the beginning investor through essential topics in a logical sequence. Since the focus of this review is for beginning investors and traders, here is a summary of E*Trade's Investing Basics:

Two core concepts –

diversification

and

asset allocation

Investment horizon – when do you need your money, less than 5 years, 5 to 7 years or more than 7 years from now.
Understanding your

risk tolerance

– this circles back to

asset allocation

Then decide whether you want to Do It Yourself, or do you want professional help
E*Trade then explains where to get investment ideas and all the research tools available including,

research on companies, mutual funds, ETFs and

bonds

.
market news, trends and high activity

stocks

screeners, including a very powerful and flexible stock screener with predetermined screens and the ability to build and save your own screens, and screeners for

bonds

, ETFs and mutual funds
thematic investing allowing an investor to adopt an approach that is aligned with their values, there are explanations of Undervalued large companies, Up-and-comers, Emerging economies, Technology pacesetters, The future of entertainment, Health care innovators, China's internet and technology leaders, E-commerce, Millennials, Clean energy, Clean water, Gamers, Artificial intelligence and lastly Cybersecurity.

There is then a short video explaining how to place a stock trade.
And that should get you started!
Advanced trading
Through other tutorials and videos, E*Trade explains how options and futures work and how to analyze and trade them. Another sequence of videos explains how stock, options, and futures strategies can be combined on Power E*Trade. To find out more about options trading, click here.
And if all that wasn't enough for you, E*Trade has a library of video tutorials going in-depth into all manner of subjects relating to investing.

---
Walk-ins?
Currently, E*Trade has 30 walk-in branches in major population centers around the US.
---
E*Trade – the pros – for the beginner
E*Trade offers its clients a very comprehensive array of investment products and services. It has made some obvious attempts to make these services accessible to the beginning trader and investor through tutorials, guidance videos set up especially to guide beginners in investing. And if you live near one of their branch locations I'm sure they would be delighted if you go in for a chat.
---
E*Trade – the cons – for the beginner
If you use E*Trade as your only source of retail banking then you will have to get a credit card and a mortgage somewhere else.
If you are looking to trade cyber currencies, then you'll need an account somewhere other than E*Trade. There have been reports of E*Trade setting up to trade major cyber currencies but at current writing that hasn't happened yet.
Honestly, these are very minor points hardly likely to be a drawback for a beginning investor. To learn about customer complaints about E*Trade, click here.
---
E*Trade – how does it rank?
I'd say 5 out of 5 but I am biased as I have had an E*Trade account for nearly 20 years now and I have never had a problem. To be fair I will say 4.5 out of 5 as I would like their stock screener to be a tad more flexible and a little less pre-programmed than it currently is but again this is a very minor consideration as I have a simple workaround.
To see how E*Trade compares with its main competitors, check here.
My recommendation
If you are a beginning investor or trader looking for a brokerage account, I would say sign up with E*Trade.
---
Affiliate Disclosure: This article contains affiliate links. If you click on a link and buy something, I may receive a commission. You will pay no more so please go ahead and feel free to make a purchase. Thank you!
Working with a secure and efficient high-performance brokerage platform is important. I would argue it is more important to invest in your own financial education. I recommend you check out the American Association of Individual Investors, the AAII.
With your membership of the AAII, you get access to regular market reports, training materials on investing, how to risk and asset allocation, retirement planning, how to manage finances in retirement, and other resources, all for an annual membership fee.
---