At some point, as you build your investment portfolio of stocks and bonds, you will likely reach a time when you think about how to start in real estate investment.
Stocks, bonds, and other asset classes are typically only available to private investors through a broker. In contrast, there are many different ways to invest in real estate. Some of these, like crowdfunding, are comparatively new, while others like owning rental properties have been around for centuries.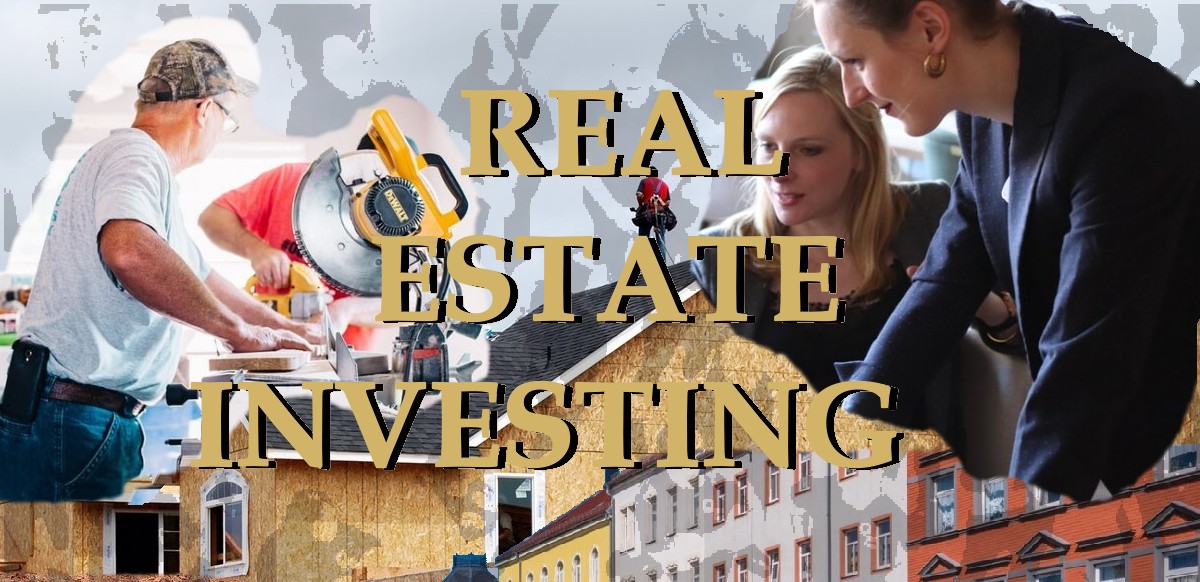 Here I'm going to consider each of these in turn, and indicate how you would get started through each of these avenues.
Traded REITs
REITs, pronounced "reets" stands for Real Estate Investment Trusts. They have been around in the US since 1960 and are an easy way to get started in real estate investment.
Prior to the creation of REITs, investment in commercial real estate was only practical for high-wealth individuals or for institutions. One class of REITs is traded REITs that can be bought and sold on exchanges like other stocks and ETFs.
Pros – Very low minimum starting capital required, highly liquid, completely passive.
Cons – May not offer the highest returns, valuations are subject to market gyrations.
How to get started – Open a brokerage account if you don't already have one. Select a few REIT ETFs that meet your criteria. Either buy as a one time purchase or set up regular purchases to achieve dollar-cost averaging.
If you don't yet have a brokerage account, this article compares some of the main brokerage providers.
Non-exchange-traded REITs
Another category of REIT is the public non-exchange-traded REIT. As the name suggests any member of the public can buy into these REITs. There is typically an account minimum and because of the way these REITs operate, they incentivize their members to keep funds in their account for periods of many years. Often the best incentives are available if your holding periods match the periods for which corresponding real estate properties will be held by the fund.
Note: This article contains affiliate links
Diversyfund is a good example of a platform to invest in its non-traded REIT with a low account minimum of $500. Diversyfund is also a crowdfunding platform for real estate properties.
Pros: Low minimum capital requirement, high rates of return, completely passive.
Cons: Early withdrawal penalties or no early withdrawals allowed.
How to get started – Open an account with a platform like Diversyfund. They will guide you through the process of setting up and building your account.
Crowdfunding
Crowdfunding is really an online version of community cooperative funding methods with some extra bells and whistles. There are a number of crowdfunding platforms that are dedicated to real estate ventures. All of these platforms require an investment minimum.
Where you see a lower minimum that usually means the crowdfunding platform is giving you access to non-exchange-traded REITs. Where you see the higher account minimums that often means you will be able to invest directly in real estate development projects.
To get the best returns you will often have to tie up your capital for at least 3 or 5 years. On the plus side, when projects are liquidated at the end of their life with the platform you will get your share of the capital appreciation assuming they were able to sell the property for a price higher than its cost.
With funds like Diversyfund, the minimum requirement is as low as $500. That will allow you to invest in the Diversyfund Growth REIT. However,, through the Diversyfund platform if you are an accredited investor with an account minimum of $25,000 you will be able to invest directly in specific real estate development projects.
Crowdstreet is another crowdfunding platform where you need to be an accredited investor with an account minimum of $25,000.
This article explains the requirements to become an Accredited Investor in a number of major countries.
Pros: High rates of return are achievable, completely passive
Cons: Very illiquid, your funds are going to be tied up for 3 to 5 years.
How to get started – Find a crowdfunding site that you like and offers investments you want. Then sign up.
This article explains real estate crowdfunding in more detail.
Real estate-related stocks
There are companies involved in the real estate industry that provide services to that industry without actually investing in real estate properties. Good examples of such companies are CBRE, Redfin, and Zillow. These companies are all listed on US stock exchanges so you can buy their shares through a regular broker.
The stock prices of these companies tend to follow real estate as a sector so investing in these companies is a way of investing in the real estate industry.
Pros – Very low capital requirement, very liquid, completely passive.
Cons – Stock prices will fluctuate with the general stock market.
How to get started – Same as above for traded REITs – open a regular brokerage account and look for real estate service stocks.
Invest in mortgages
Another route to real estate investment is to buy into mortgage mutual funds or mortgage-backed-securities. Many of the familiar big-name investment firms offer these funds. In fact, these funds are often one variety of fixed-interest funds.
Like many mutual funds, mortgage mutual funds can either be open-ended or closed and they typically require a minimum investment that can be anything from around $1,000 and up. The mortgage mutual funds are often just a vehicle for investing in mortgage-backed-securities.
You can invest directly in mortgage-backed securities through your bank or your broker. The US entities issuing mortgage-backed securities are Ginnie Mae, Freddie Mac, and Fannie Mae. The securities issued by Ginnie Mae start in chunks of $25,000 and up while those issued by Freddie Mac and Fannie Mae are in chunks of $1,000 and up.
An individual investor who can meet the minimum capital requirement is able to invest in these kinds of funds usually through a regular retail investing broker. The funds can also often be purchased into a retirement account.
If you want to get serious in this field you can also apply to join a mortgage syndicate. You will need much more capital and there is an application process but this isn't the way to start investing in real estate unless you already have silly sums of money at your disposition.
Pros – Well-managed funds have low default risks, can provide a reliable stream of income, can be purchased through a retirement account, completely passive.
Cons – Higher starting capital requirements. No way to benefit from real estate property value appreciation.
How to get started – As before, open a regular brokerage account and look for mortgage-backed-securities. You will probably find them under bonds or fixed-interest.
Wholesaling
Now we are getting into areas of real estate investment that are less passive.
Wholesaling is where you act as a go-between trying to put developers and opportunities together. To make this work you, as a middleman, need to add some value to the deal.
The value you add can be through marketing efforts or by some form of repurposing of property use. In other words, seeing an opportunity that others can't see or don't have the time or desire to see and putting the seller and the buyer together.
You can see that wholesaling is much more like actively working in real estate than passively investing in real estate. It is possible to do this kind of this as a side hustle but it is much more viable as a full-time occupation. You are also more likely to find opportunities near where you live where you are plugged into the community and know what is going on. It may require connections with local property boards and building inspectors and familiarity with zoning laws.
If you are starting out and you have flair and energy and are able to spot good opportunities, make connections and bring parties together this can be a way to launch a career in real estate.
Pros – the sky's the limit.
Cons – the sky's the limit and it can get cloudy at times, likely to require time, energy, and flair, no or low starting capital requirement.
How to get started – If you don't know someone putting these kinds of deals together you will need to do a lot of reading and learning. You will need to do a lot of reading and learning anyway.
Buy rental properties
This is what comes to mind for many of us when we think of investing in real estate. It is of course more active and less passive. You will need some capital to get you started. On the other hand, many people make a second career out of this and are very successful at it.
Once you do get successfully started you should be able to use the income stream and the capital you build up to take out more mortgage loans and buy more rental properties.
There are risks of course.
Since you own the properties you will need to manage them or have someone manage them for you. That means finding reliable paying tenants, keeping the occupancy rates high, and taking care of any major maintenance items. Like with all things real estate, the three most important factors are location, location, and location.
You are also exposed to the risks associated with the neighborhood of the properties. When a neighborhood is up and coming that means you should have an easier time finding reliable paying tenants and the value of the property will appreciate. But the reverse is also true.
Pros – Highly profitable if you get it right with your first properties.
Cons – Higher capital requirements, requires more management.
How to get started – Start small with a property that doesn't need work and has standing tenants. Do your homework, read up on the subject.
Short-term rentals
You can also rent out properties you own on a short-term instead of on a long-term basis. This usually involves signing up with AirBnB or VRBO.
Much will depend on the location of the property whether short-term rentals will be viable or not. It requires much more of your time and effort to pursue short-term rentals than long term rentals.
Of course, you can use a management company but that will eat into your income. Also, you will have to furnish the property and the fittings and furnishing will get used and abused at a greater rate so you will need to budget for those costs too.
On the plus side, if all the stars are aligned there is a much higher profit potential with short-term rentals than with the long-term.
Pros – high-profit potential.
Cons – takes a lot of work, higher management costs, and running costs.
How to get started – If you want to go rogue, sign up your property with AirBnB and move into your parents' garage.
Land speculation
Rather than buying rental properties, you can buy vacant land on the speculation that it will appreciate in value and become attractive for a developer.
There are challenges with this approach. It can be more difficult to get a loan to buy vacant land and it can be difficult or nearly impossible to earn any income from vacant land. You will be paying off that loan until you sell it.
If your plan involves repurposing the land, then this may involve rezoning which is also a challenge. This is an area that requires local knowledge and local connections.
Pros – High-profit potential.
Cons – Very risky and speculative.
How to get started – You will need more capital to invest in land. Do your research. Know why you think a property is going to become more attractive than it is now and know what the risks are.
Buy, Fix, and Flip
To succeed at this you have to take it on more like a full-time occupation than an investing side hustle. It looks so easy when you see it on TV. Mistakes in this game can be very costly. There are more critical areas you have to pay attention to. You will need to know how the building inspector operates in the area where you are buying and possibly the architectural board if you are contemplating exterior alterations. Much will depend on the reliability of your contractors. The quality and dependability of the team you put together will be the key to your success.
Pros – High-profit potential
Cons – Much more like a job than a passive investment, a lot of room for mistakes which can be very expensive.
How to get started – Line up your team and start with something small and manageable, nothing too ambitious.
Buy foreclosures
Buying foreclosures is more specialized than regular properties. This is also an area that requires more work and doesn't resemble passive investment at all. Foreclosed properties are often also distressed properties. Especially in bad economic times, many foreclosures are left in a hurry, and the previous occupiers will often damage what they leave behind.
Most foreclosed properties are sold at auction by the bank that holds the outstanding debt on the mortgage. Bidding would usually start at the amount due to the bank plus fees and any unpaid taxes.
You have to register as a bidder beforehand to place bids at a foreclosure auction. Most foreclosure purchases at auction are with cash though some buyers are able to get loans and some are able to get mortgages. It usually takes longer to close on a foreclosed property and there is often more paperwork involved.
Pros – can be highly profitable.
Cons – a lot of work and it can take a long time to close.
How to get started – Some people do manage to buy their first home as a foreclosure and strike a great bargain in the process. Kudos to them. If you want to do this as a side hustle or a business you will need to read up and study.
---
Questions and answers
---
Q. What is the best way to start real estate investing?
A. That depends if you want it to be a passive investment, a side hustle, or your main occupation. As a passive investment buying traded REITs is the easiest while crowdfunding offers greater profit potential if you can tie up your funds for at least 3 or 5 years. As a side hustle buying rental properties is a good idea and if you want to be more active in it, put out part of your properties as short-term rentals if that is viable for the location. As a main occupation if you have no capital and you are creative try wholesaling but if you have some capital then fix and flip could be an option.
---
Q. How much do you need to invest in real estate?
A. You can start with $50 or $100 if you want to invest in REITs, $500 will get you started with crowdfunding, you will likely need 20% down on any property you want to buy, or you can start with the cost of smart business attire, a business card, and a smile if you want to start in wholesaling.
---
Q. Can I buy real estate with no money down?
A. You can if you borrow the down payment from some other source such as family or you may be able to negotiate no down payment if you get a mortgage with the seller. There have been periods when 100% mortgages were allowed for certain kinds of buyers. Those periods are often precursors to real estate bubbles leading to inevitable real estate collapses.
---
Single-page summary
Here is a single-page PDF summary of how to start in real estate investment.
---
I hope you found this article interesting and useful. Do leave me a comment, a question, an opinion, or a suggestion and I will reply soonest. And if you are inclined to do me a favor, scroll down a bit and click on one of the social media buttons, and share it with your friends. They may just thank you for it.
---
Disclaimer: I am not a financial professional. All the information on this website and in this article is for information purposes only and should not be taken as investment advice, good or bad.
---
Affiliate Disclosure: This article contains affiliate links. If you click on a link and buy something, I may receive a commission. You will pay no more so please go ahead and feel free to make a purchase. Thank you