When is the gold price going up … That's an excellent question. Let me go and dust off my crystal ball.
Gold is an interesting metal.
I know, that was a trite remark.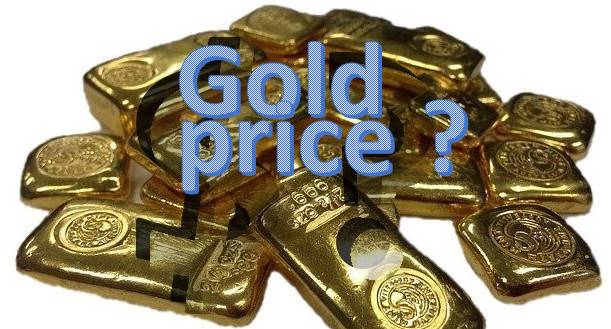 Affiliate Disclosure: This article contains affiliate links, if you purchase through a link on this site, I may receive a commission.
Gold is one of those emotionally charged words that evoke many different images. Bling decorating a princess' neckline, a hoarder hunched over, counting piles of coins in a dimly lit back room, prospecting miners heading out West in wagon trails, and modern gold mines of South Africa and other parts of the world. Well, those are some of the images that come to my mind.
What moves the gold price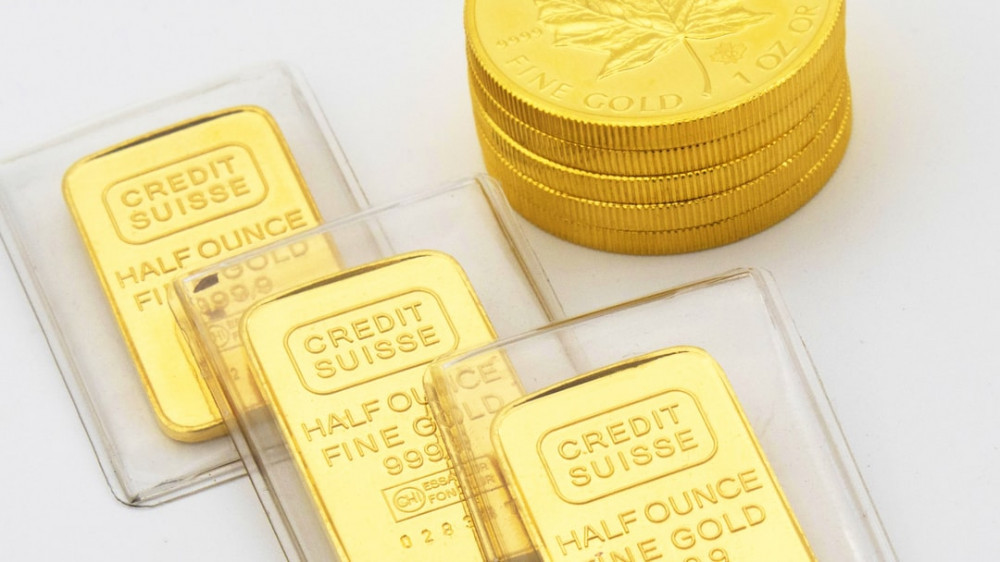 Gold is like many other commodities and the primary drivers of price are market supply and demand. But what sets gold apart from other commodities is that it is also used as a store of value.
Gold does have its practical uses.
It has been used in jewelry for millennia and more recently it is used in electronics and some medical applications. These industrial and consumer uses for gold in addition to just holding it in bullion or coins are what drives demand. An increase in demand for gold in any of these areas can drive the gold price up.
The gold supply is provided by gold miners and to a smaller extent recycling plants. China, Russia, Australia, the USA, Canada, Ghana, Brazil, and Uzbekistan are the top 10 producers. Where we currently stand in early 2021, most of the gold that is cheap to find has already been mined.1)Source: Top 10 gold producing countries
The cost of mining any mineral is determined by the cost of digging the ore out of the earth and refining the substance, in this case, gold from the naturally occurring ore that contains it.
Finding little nuggets of gold in the bottoms of rivers is quite rare these days. Industrial-scale gold mining operations usually involve lengthy and costly chemical processes to extract gold from the ore often using big heaps of ore and sodium cyanide to leach out the gold. These processes also have quite significant and negative environmental impacts.
The point is that today most of the easy sources of gold have already been exhausted. The cost of mining gold from modern mines is steadily increasing.
Recycling gold from used jewelry has been going on for centuries, but recycling from scraped electronics and dental fixtures is also possible. Recycling sources are barely significant compared with gold from mining today, but that picture is likely to change as mining costs increase.
Rumors and conspiracies
The price of gold is also highly susceptible to rumors and conspiracy theories. I remember when the Soviet Union collapsed there were rumors that the ex-Soviet states would flood the gold market emptying their vast vaults of gold reserves.
Of course, you could ask the question why they didn't do that beforehand to maybe prevent or at least stall the collapse of the Soviet Union. In the end, it turned out that there were no such hidden hoards.
I think the point is that more so than with other commodities, rumors and conspiracy theories about how the gold price will move in one direction or another proliferate. There are plenty of people around who would benefit from a move in gold prices one way or the other, so any such rumors tend to get amplified more than if they were about something about to happen to the price of steel for example.
The price of the dollar
One very important determinant in the price of gold is the dollar itself. The gold price is denominated in US dollars and the price of gold tends to move in an inverse relationship to the strength of the US dollar. So when the US dollar is weak, gold is effectively cheaper and investors and other gold buyers tend to buy more gold, pushing the gold price up.
The reverse is also true. When the dollar is strong this pushes the price of gold down.
The strength of the US dollar is typically measured by the US Dollar Index, which tracks the value of the US Dollar against a basket of six other currencies, namely, the Euro, the Japanese Yen, the British Pound, the Canadian Dollar, Swiss Franc, and the Swedish Krona. Here is how it has performed since the index was created in 1973.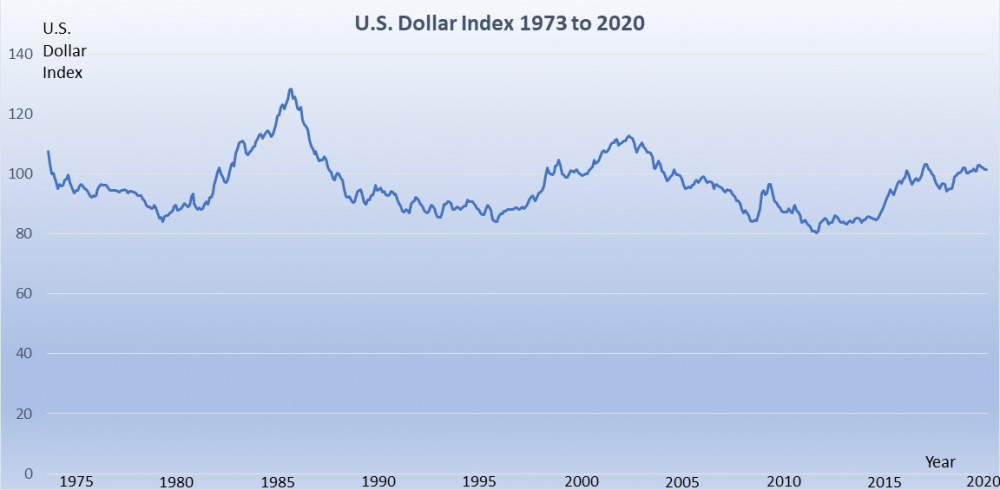 2)Source: U.S. Dollar Index – 43 Year Historical Chart
Currently, in late June 2021, the US Dollar Index is hovering around 91. Many in the financial world often ask where the US dollar is likely headed from here. Most experts agree that rising inflation in the US economy is likely which will increase downward pressure on the dollar compared with other currencies.
The case for rising US inflation
We've all heard of economic cycles and booms and busts, economic expansion and recessions. So where is the economy now, and what does that mean for where it is likely to go?
And here's another question – Has the COVID pandemic recession which started in February 2020 fundamentally disrupted the economic cycles or was it a brief blip?
That is a good one and your answer does depend to a great degree on which parts of the economy you are looking at, i.e. Wall Street or Main Street. But for the moment let's go back to considering some basic observations about economic cycles.
Recession, recovery
Recession and recovery is a polite way of saying boom, bust but the other way around of course.
If we start at a point of economic expansion, things are going well, unemployment is falling, wages are rising, corporate profits are rising, international trade is increasing and public sentiments are improving. Stock prices rise and generally, everyone feels great, euphoric even and the party will not end.
Then the party does end, often abruptly and often with a market crash or collapse in some part of the economy that drags everything else down. Unemployment rises, inflation rises, companies go out of business. Then when it feels as if things just can't get any worse, they do start to turn around and steadily things improve and off we go again.
This is an absurdly simple view of economic cycles, but an important point to get to here is that different parts of the economy tend to lead the waves of the cycle, while other parts of the economy tend to lag on the waves of the economic cycle.
Commodities, stocks, bonds
One of the early signs of an overheating economy tends to be rising commodity prices. This feeds inflation and typically central banks step in, increasing interest rates to put a damper on rising inflation.
Higher interest rates have a direct result in lowering bond prices. Higher interest rates sooner or later have a direct impact on stock prices, firstly because of investors reacting. But also because higher interest rates mean higher borrowing costs for companies which has a direct impact on their bottom line.
The effect of higher interest rates on stock prices tends to affect some sectors more than others. For example, many companies in the technology sector borrow heavily to finance their operations. Eventually, those higher interest rates feed through to lower corporate profits and hence to lower stock prices.
Impact of the COVID crash on Wall Street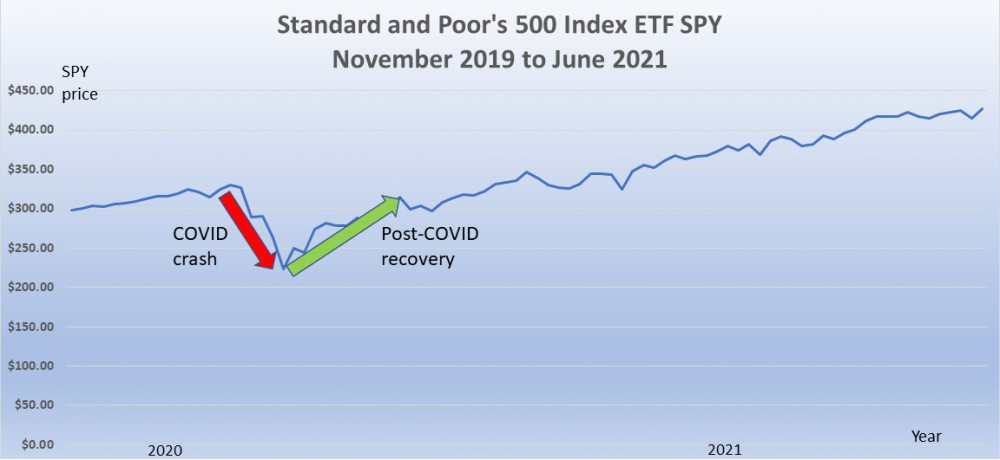 3)Source: Historical data: Yahoo Finance, all charts by Bad Investment Advice
The impact of the COVID crash on Wall Street seems to have been temporary. Yes, the major indexes plunged by about 30% during the month of March 2020, but then all the indexes recovered and by November they were all back close to their January 2020 highs.
Also, the major market breadth indicators like the Advance/Decline Line showed there was broad participation in advances being made by the major indexes. In other words, many more stocks were increasing in value than were declining in value. That is a sign that a bull market has a broad base.
Interest rates were low before the COVID crash. The central banks pulled together to inject money into the financial markets and keep things in that sphere pretty much afloat. Interest rates were held low throughout so there hasn't been much of an impact on fixed-income investments.
COVID crash and Main Street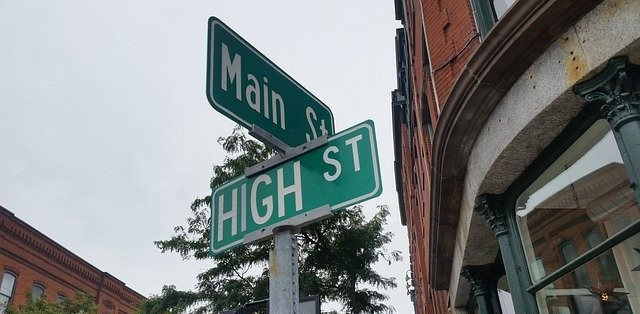 The impact of the COVID crash on Main Street has been much more severe. We are probably still too close to events to form a rational view of what will happen next.
The signals we are hearing from the Federal Reserve on interest rates speak to how willing they are to keep interest rates low in order not to stifle the economic recovery as the pandemic is now coming under better control. The economic stimulus measures and government injections of cash into the economy are inevitably stoking up inflationary pressures.
This article examines the economic impact of the COVID pandemic in greater detail.
Inflation – the grim reaper
We can see inflation in everyday prices of at one end of the spectrum food and at the other end, rising house prices. Inflation is pretty much across the board, gas prices at the pump, groceries at the supermarket but also imported goods will be more expensive because of the weak dollar.
Many investors see all these signs and read in the tea leaves that there is an inevitability of rising inflation over the coming few years.
Putting these elements together,
a weak US dollar,
rising

inflation

,
and a Fed reluctant to beat down

inflation

,
is likely to result in investors taking flight into gold.
A hedge against inflation
Investors move into gold when fears of inflation increase. This tends to amplify the effect of the inverse relationship between the price of gold and the strength of the dollar. Not only do investors view gold as cheap if the dollar weakens but because the dollar weakens they move more into gold as a hedge against inflation.
The long-term case for gold
Let's consider all the drivers of demand for gold.
The fundamental case for gold is that we need it for electronics and medical uses and we want it for jewelry and hoarding as a store of value. In terms of proportion, gold investment accounts for about half, jewelry about a third, and industry and central banks about a twelfth each respectively of the overall demand.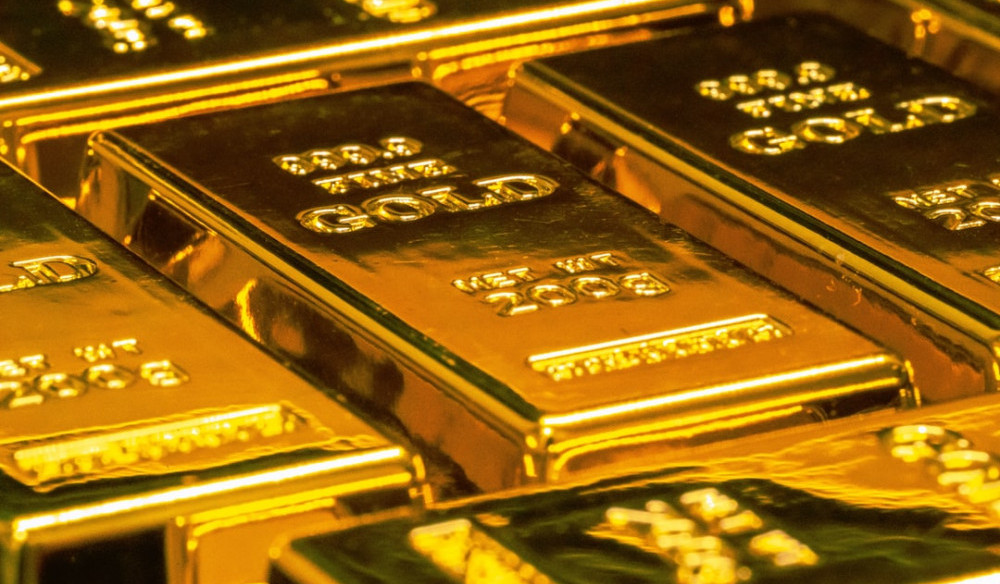 Investment – This is really a question of how interested investors are in buying gold. As prosperity across the world has generally been rising in the decades since World War II, more and more of that flows into investments. The big question here is how enamored investors are with gold.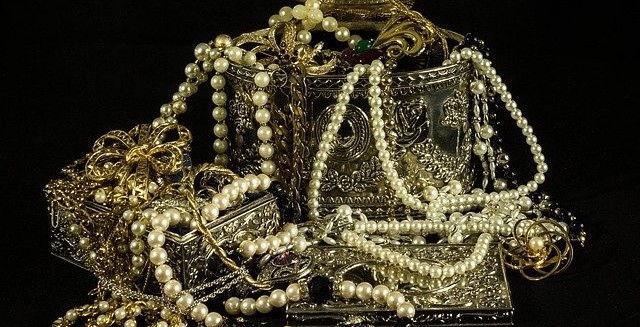 Jewelry – gold jewelry is a subset of the luxury market. One question here is whether the luxury market is set to expand or contract or stay where it is. If we assume that the developed world isn't going to suffer from a succession of communist takeovers, then an expanding luxury market is a reasonably safe bet.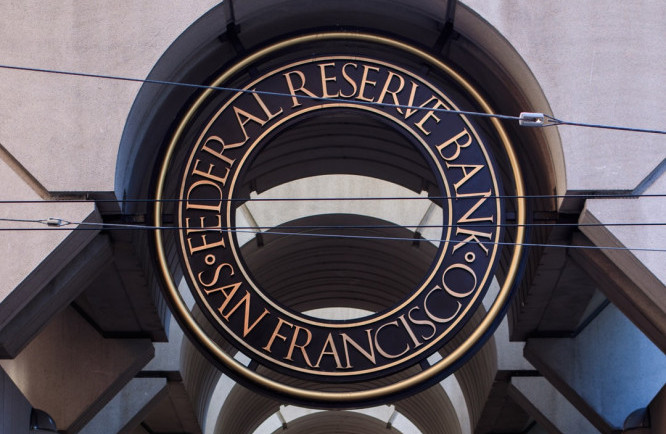 Central Banks – Central banks hold physical gold as a store of value. These are the big hoards of gold bars held in Fort Knox and places like that around the world.  Central banks either add to their gold reserves or sell them off. In good economic times, they are more likely to build reserves, in a recession they are more likely to sell reserves.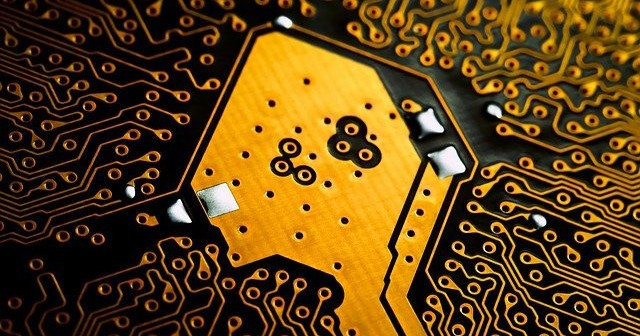 Industry – Industry uses are made up of electronics and the medical industry – The electronics industry keeps trying to find less expensive substitutes for gold but its resistance to oxidation makes it about the best surface to surface contact there is. So I don't see any dramatic change here other than a steady increase as the world continues to rely on more and more electronics.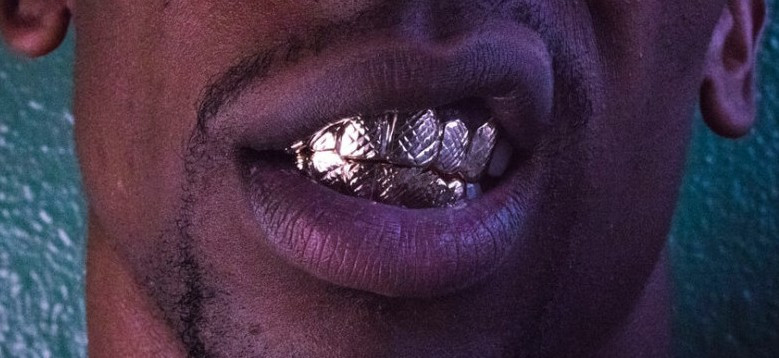 The medical uses of gold stem from the same attributes as for electronics. Gold is so inherently stable that it undergoes almost no change when inside a human body over long periods of time. It is because it is so harmless inside the human body that it is used for millennia in dental fixtures and in other implants.
The big drivers
The big driver and the most variable on the demand side is investment and on the supply side, it is gold mining.
A technical view
Another way to look at where we think gold prices could go is to examine a price chart for gold using technical analysis.
Here is the first of a two-part article that considers the main aspects of technical analysis.
This is what the monthly price chart for gold looks like along with the trading volume from August 2000 to June 2021.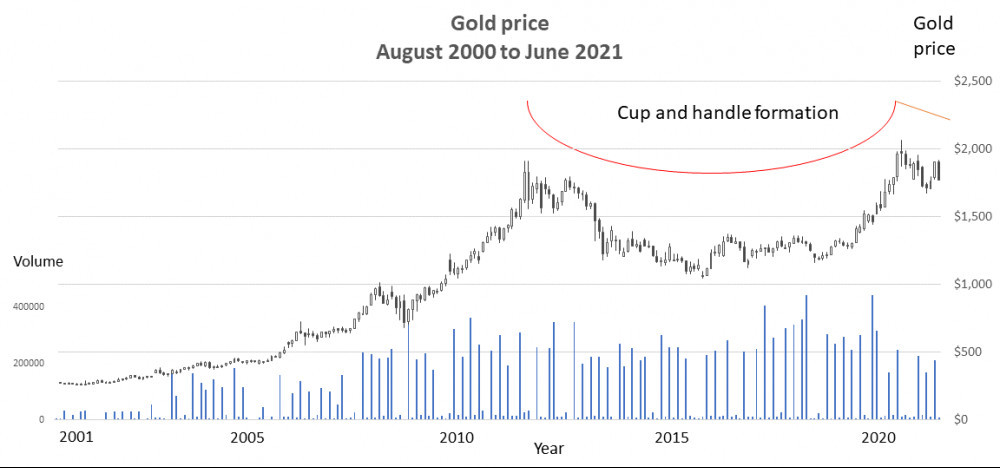 4)Source: Historical data: Yahoo Finance, all charts by Bad Investment Advice
What we see here actually looks very much like the formation of a classic cup and handle pattern building up over a long period of about 10 years. Can we really say that for gold though? After all, this is not the stock price of a company that has sales and profits. Though it is an asset and as an asset, it is delivering returns to its holder.
This article explains the characteristics of a cup and handle formation.
Do we see evidence of volume drying up as the base is formed? We would expect to see decreasing volume on down days and increasing volume on up days.
Maybe the pattern is somewhat confused by the seasonal purchasing pattern for gold. It is widely published that there are months of the year where the gold price drops and other months when the price rises. Savvy investors who are building positions over time will therefore favor buying gold in the cheaper months.
Technical speaking, there could be a compelling case here for a cup and handle formation, which could be the precursor of a steep and long-lasting rise in price. The longer a cup and handle formation takes to form the longer it takes to rise and the further it can go.
By all measures, a cup and handle formation that has built over a 10-year period is a pretty big deal, to put it mildly.
Self-directed IRA
If you are looking for a tax-efficient, safe, and secure way to make investments in gold and other precious metals, then a self-directed IRA offered by e.g. Goldco could be just what you are looking for.
Affiliate Disclosure: This article contains affiliate links, if you purchase through a link on this site, I may receive a commission.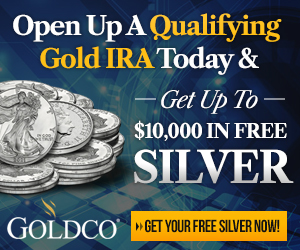 ---
Questions and answers
---
Q. Are gold prices expected to rise?
A. The answer depends on your timeframe. Over the long-term gold prices are inevitably expected to rise, as supply is limited and the metal becomes more expensive to mine while long-term demand is set to increase. Over the short term, it is a balancing act between increasing interest rates and inflation. If interest rates increase more rapidly than inflation or the perceived threat of inflation then that will depress the price of gold. If the market perceives that interest rate rises will not hold back inflation then that will put upward pressure on the gold price.
---
Q. What will the gold price be in 5 years?
A. There are mixed opinions among experts over the next five years. Some argue that fears over inflation will push investors to take larger positions in the precious metal. Others say that the pandemic caused a surge in investor demand for gold that will not be repeated.
---
Q. What drives the price of gold?
A. Demand and supply. Since supply is fairly constant, investor demand for gold is the biggest driver. Behind investor demand for gold, investor fears of inflation increase demand. If investor sentiment thinks inflation will outstrip the central banks' and governments' abilities to control it, then the price of gold will skyrocket.
---
Single-page summary
Here is a single-page PDF summary of when is the gold price going up.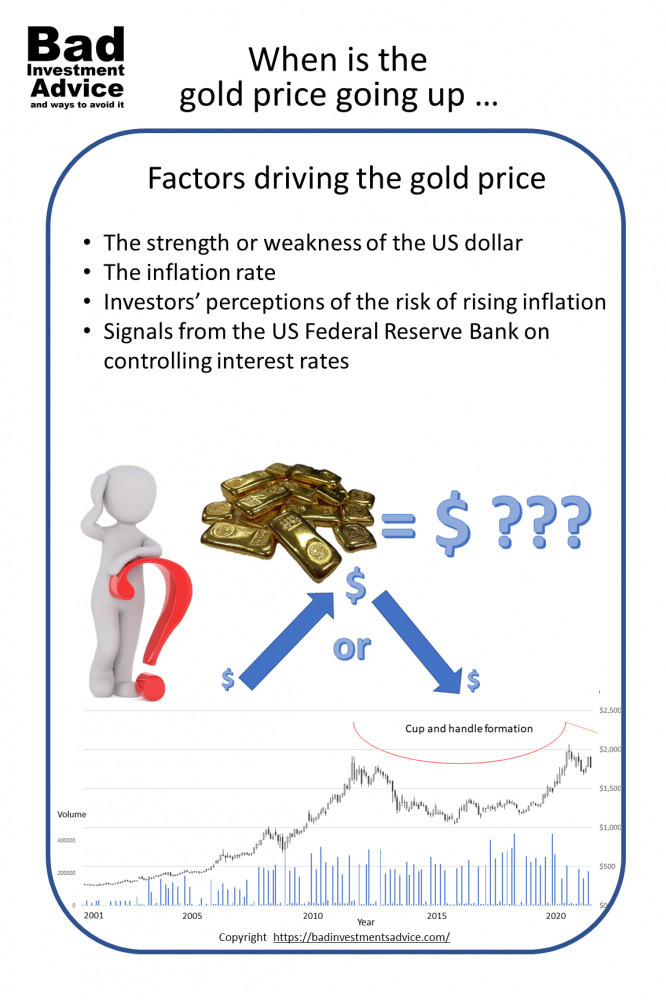 ---
I hope you found this article interesting and useful. Do leave me a comment, a question, an opinion, or a suggestion and I will reply soonest. And if you are inclined to do me a favor, scroll down a bit and click on one of the social media buttons, and share it with your friends. They may just thank you for it.
You can also subscribe to email notifications. We will send you a short email when a new post is published.
---
Disclaimer: I am not a financial professional. All the information on this website and in this article is for information purposes only and should not be taken as personalized investment advice, good or bad. You should check with your financial advisor before making any investment decisions to ensure they are suitable for you.
---
Affiliate Disclosure: This article contains affiliate links. If you click on a link and buy something, I may receive a commission. You will pay no more so please go ahead and feel free to make a purchase. Thank you