What is a trade in the stock market? This can seem like a simple question and much is written about stock market investing and trading that just assumes we all know what this means. There are aspects to trades in investing and trading that are worth taking a close look at to get a good feel for how they work.
Definition of a trade
In its simplest form, a trade in the stock market is when one person gives money to another person in exchange for shares in the ownership of a company.
A share in the ownership of a company means just that. If a company divided up its ownership into a million shares and you own one of those shares you would own one-millionth of the company. By owning that share you become a shareholder and being a shareholder gives you certain ownership rights.
The ownership rights you get with your one-millionth share of the company gives you voting rights and the right to a share of profits. Shareholders usually get to vote for members of the board and in some country's merger proposals are referred to a shareholder vote.
The other benefit of being a shareholder is you get your share of profits from the company's operations. These profits are paid in dividends, usually at set times of the year.
Direct transaction
In this simple case where money is exchanged by one party with another party for a share or a stock, this is a direct transaction and the share is also called a security because it secures you the rights of ownership. A share is also sometimes called a financial security.
Setting the price
This can seem like a bit of a mystery at times and we all know those simple phrases like – market prices are driven by supply and demand. But it is interesting to dig a little into how that works. With a few simple diagrams and calculations, we also gain a more intuitive understanding of what goes on in an exchange market.
A simplified case
To watch this in action let's imagine that we have a very simple market that is only buying and selling single apples. There is a crowd of buyers and a crowd of sellers. Each buyer is offering a price to buy one single apple. There is a market maker who runs the exchange who has a big chalkboard. Each buyer tells the market maker the price they are willing to offer to buy one apple and the market maker writes up all the buyer offers on the board.
Keeping it simple, let's imagine that there is a normal distribution of price offerings and the mean price being offered in $0.80 with exactly 100 buyers offering that price. Some buyers are offering a higher price and some buyers are offering a lower price. To make the math manageable let's assume that prices can only move in $0.05 increments. Assuming a normal distribution of buyer price offerings we could chart this with the diagram below.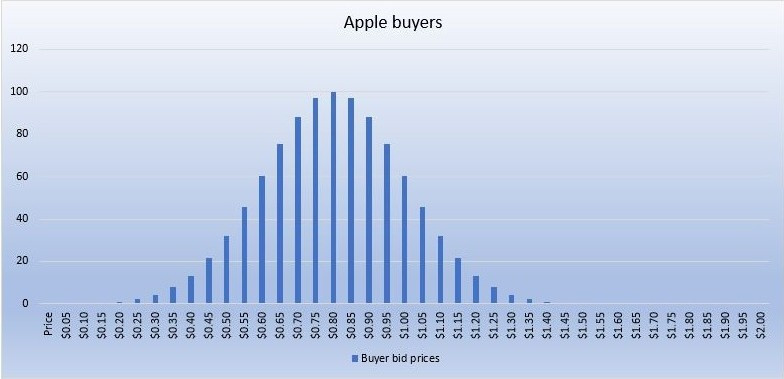 In this example the highest price being offered is $1.40, the lowest price being offered is $0.20 and the total number of buyers comes to 1,000. Each price offer is called a bid price. It sounds like quite a crowded market and probably a good place for a coffee vending stand but that is another story.
Now let's imagine in this same market there is a crowd of apple sellers. Each one has one apple to sell. They are all asking a price to sell their one apple and there are 100 of them asking for a price of $1.20 with a normal distribution of asking prices either side of that mean. The price requested by a seller is called the ask price. Again the market maker would write up all the sellers' ask prices on the board. We could represent this situation with the diagram below.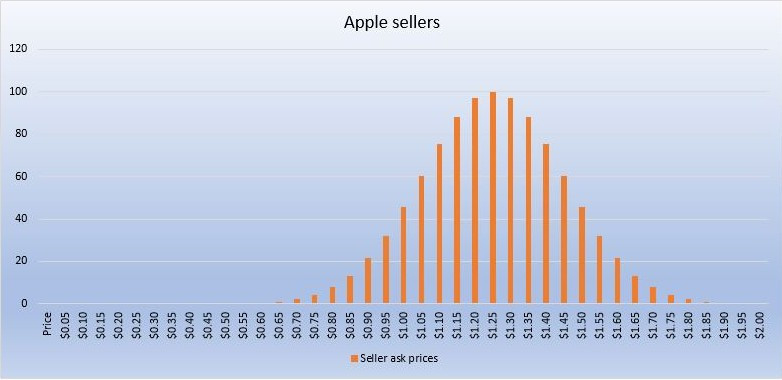 The lowest ask price is $0.65, the highest ask price is $1.85 and there are a total of 1,000 sellers.
If we overlay the two diagrams on top of each other we get the following diagram.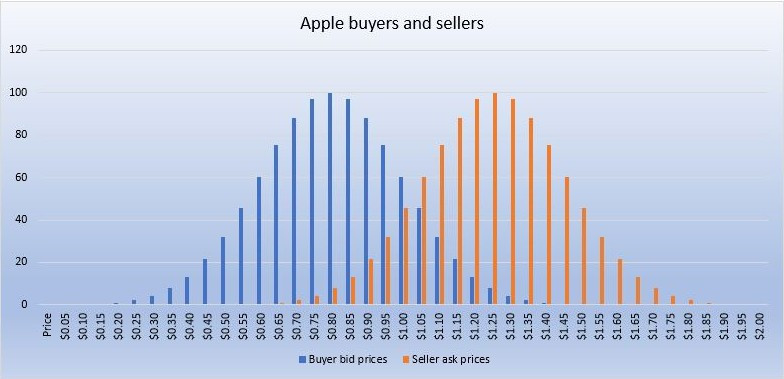 The job of the market maker is to set a single price for buying and selling apples to achieve the maximum number of trades or transactions. We can imagine that if the market maker had Excel instead of a blackboard this is what his price chart might look like.
We can straight away see that in this example that would be achieved if the price is set at $1 per apple. Then all the buyers who offered $1 or more would get an apple and all the sellers who asked for $1 or less would sell an apple.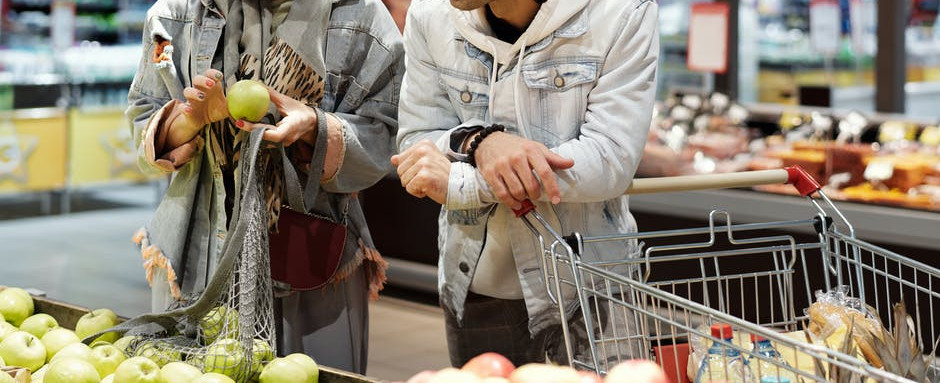 Let's assume that the market maker wants to check the numbers and so fills in the column calculating the number of transactions that would take place at each price where there is a buyer and a seller. This is what the price board would look like.

In this very simple case, there would be 128 transactions and 61 of the buyers who offered $1 would not find a seller. So the majority of buyers and the majority of sellers are walking away without having made a trade. That isn't surprising since the majority of buyers were only willing to buy at $0.80 or less and the majority of sellers were only willing to sell at $1.20 or more.
If the price were set at $1.05 instead of $1 then there also have been only 128 transactions and again 61 sellers who asked for $1.05 would not have found a buyer. If the price were set at $0.95 or $1.10 instead of $1 then there would have been only 83 transactions. The further the theoretical price is moved above or below $1 the fewer and fewer transactions would result.
Here we see the successful buyers and sellers.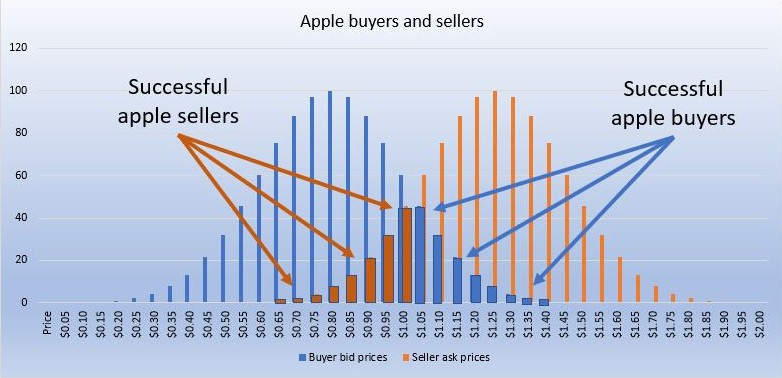 Another simple case
In the example above, one could say there were not enough generous buyers and not enough willing sellers to make a decent market.
We could imagine the same market but maybe on another day. This time the buyers are in a more generous mood and half of them are willing to buy at $1.20 or less. Similarly, the sellers got out of bed on the right side, are more amenable and half are willing to sell at $0.80 or more. The situation could be shown like this.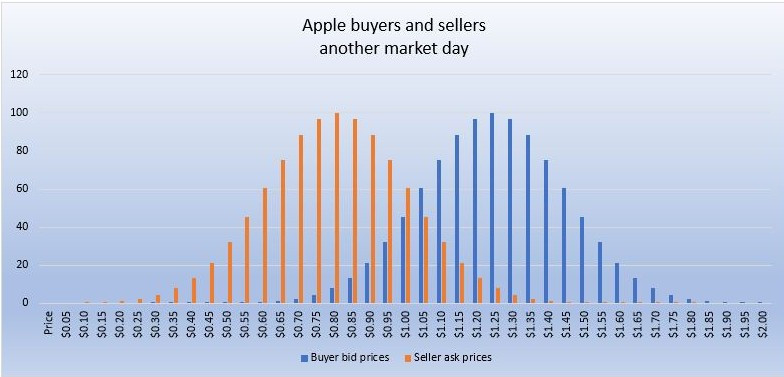 In this case, the market maker would still set the price at $1 an apple, but there would be a total of 871 transactions. So there would be more satisfied buyers and sellers leaving the market that day. This would probably be a better day to be running that coffee vending stall. There would be many more apple sellers leaving the market with a dollar in their pockets and probably keen for a cup of coffee.
So on this happier market day, this would be all the successful apple buyers and sellers.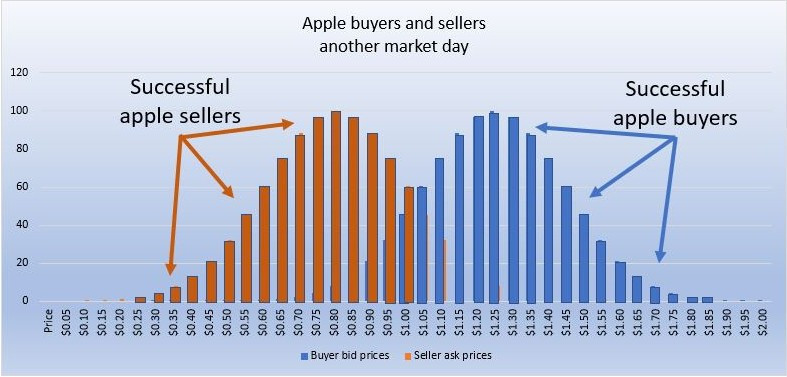 So much for pretty bell curves
This all looks obvious and orderly with bell curve normal distributions, but what would this look like if there were a more random pattern of buyer bid prices and seller ask prices. To show that I wasn't trying to pull a fast one on you, here is a random set of buyer price bids and seller offers in the range from $0.05 to $2.00.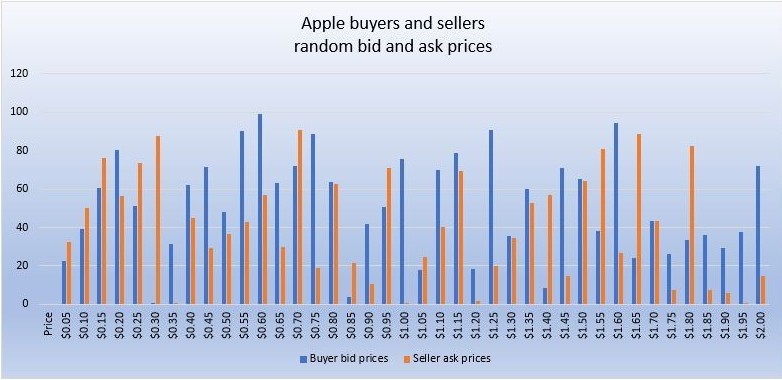 If we plot the total number of transactions that would result against the set price, it would look like this.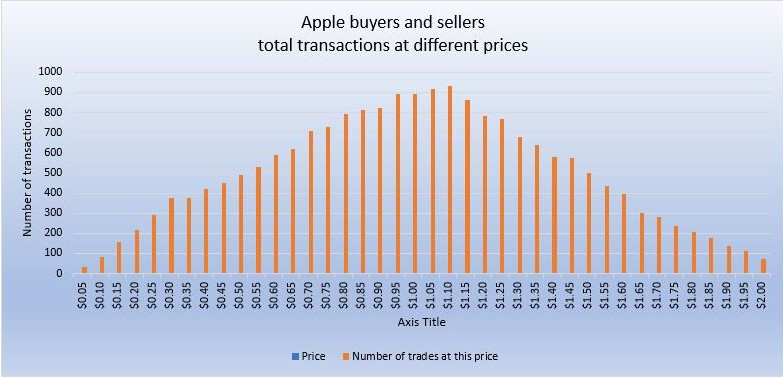 We shouldn't be surprised that since the bid prices and ask prices were indeed random that the maximum number of transactions occurs at the mid-point in this case if the price is set at $1.05.
How are stock market trade prices set
The answer is the same way as explained above. The difference being that each exchange typically has thousands of shares listed, buyers and sellers can place orders for any number of shares and prices can be proposed at much smaller dollar increments. So each exchange has an array of computers working away to make market prices continuously when the markets are open.
A market analogy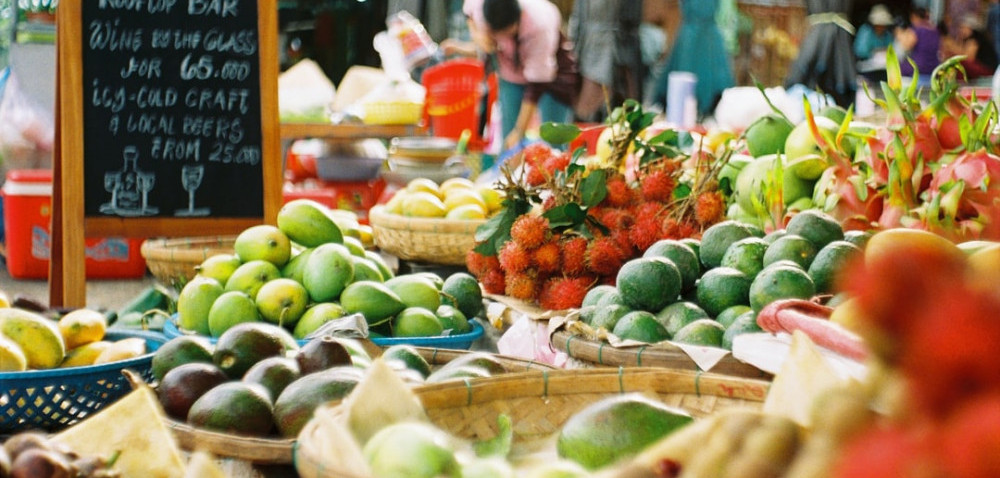 Since it's easy to imagine a fruit and vegetable market as an analogy for the stock market, let's stick with this model.
So instead of just trading single apples, there would be all kinds of fruit and vegetables being traded and buyers and sellers can propose prices for any quantity of each.
That might form a quaint and charming picture but it would not be an accurate representation of the stock market today. If we wanted our fruit and vegetable market to represent the stock market then we would have to imagine there is a small handful of traders, and I mean literally from 5 to 10 people who would be buying and selling 90% of all the fruit and vegetables in the market. The other 1,990 or so traders would be competing for the remaining 10% of the fruit and vegetables.
Under these circumstances, if we were to ask, who is likely to be setting the prices in such a market? I would bet my money on the 5 to 10 people doing 90% of the business. That is what the real stock market today looks like. Roughly 90% of the value of transactions on the US stock market is due to institutional trading and investing and the remaining 10% is due to the activity of individual private retail investors and traders.
That knowledge isn't necessarily a bad thing. If you are looking for a way that you could start investing in stocks, then I would suggest you check here.
Some technicalities of stock trades
There are other terms that come into play. Before the days of electronic trading, physical i.e. paper share certificates were exchanged. Transactions or trades between the seller and the buyer would be negotiated by middlemen, who were still called brokers and usually recorded on paper. Then at regular periods, actual paper share certificates would be transferred from one brokerage or bank safe to another.
As a customer, you could opt to store your share certificates at your brokers. You also used to be able to buy bearer shares where possession of the paper share certificate was all that was needed to convey title and ownership of the shares in the company.
So share trades or transactions come about as a consequence on the one hand of a seller expressing the willingness to trade a certain quantity of shares in the market for a certain price and on the other hand a buyer expressing the willingness to exchange an amount of money for a certain quantity of shares. If the price and quantities can be matched then a trade can take place.
There are other technicalities, including when trade orders get executed and clearing that takes place between exchanges and spreads between bid and ask prices. Such issues are important when you are engaged in high-frequency trading
Derivatives – futures and options
In the example, we looked at we only considered an exchange of money for an actual apple. The buyer handed over the money and the seller handed over the apple.
Let's imagine that an apple buyer could have looked at his growing family and decided that he also wanted to secure an apple for the next market day.
So he might look around and try to find an apple seller who would be willing to sell him a contract to provide him with an apple on the next market day. On the other side of this, a seller might decide he wants to secure a buyer for an apple next market day perhaps because he knows the weather is good and there are likely to be plenty of apples next month so he might face a lot of competition selling apples.
Futures contracts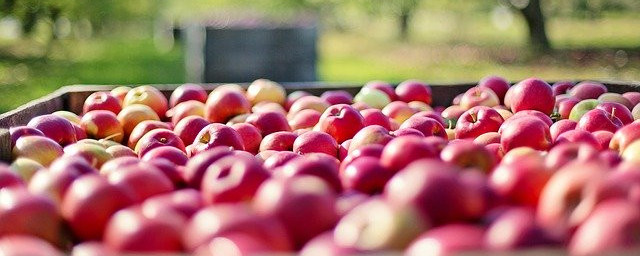 So both the buyers and sellers of these commodities look ahead to the future and see risks that could affect their future trades. If they are looking for ways to mitigate those risks they may be willing to enter a contract now for a trade that will happen in the future. These are called futures contracts.
There are futures contracts traded in many agricultural and other commodities and in currencies and in stocks and funds.
Futures contracts are also traded in exchanges and can be bought and sold with a broker. At the basis of the futures contract is a buyer who is receiving delivery of the commodity and a seller who is delivering the commodity. The time of that delivery is called the maturity of the futures contract, Before futures contracts reach maturity they are traded actively on exchanges.
Many investors, traders, and speculators will hold these futures contracts, either as a buyer or as a seller before they reach maturity without ever having the intention of either delivering or receiving the commodity.
The prices of futures contracts vary over the time between they are set up and when they mature. It is this variation in price that is attractive to speculators, and to investors looking to hedge against certain risks.
Options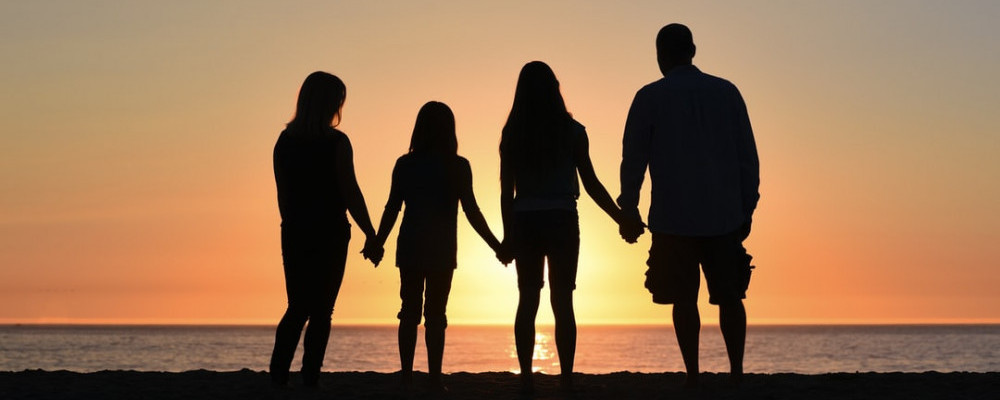 Going back to our apple buyer, we could imagine a situation where he looks ahead to the next market day, and considering his cash flow he could foresee a situation where he may not be able to afford an apple if the price goes up. He might look around in the market to find a seller who is willing to give him an option to buy an apple at a set price Depending on what the market price of apples might be on the next market day, the buyer of the option could decide whether to exercise his option or not.
Such a contract is called an option. Options are a form of insurance and are traded on exchanges for many shares and funds. In a similar way that a futures contract reaches maturity, an option also reaches the end of its timeline. But rather than maturing, we say that an option expires.
Options are used in stock trading as insurance against adverse price movements. They are also used for leverage or as a way of generating income. But more on options another time.
Futures and options are called derivatives because they derive their existence and their value from other financial securities. The securities from which derivatives are derived are referred to as "the underlying".
The trade has two sides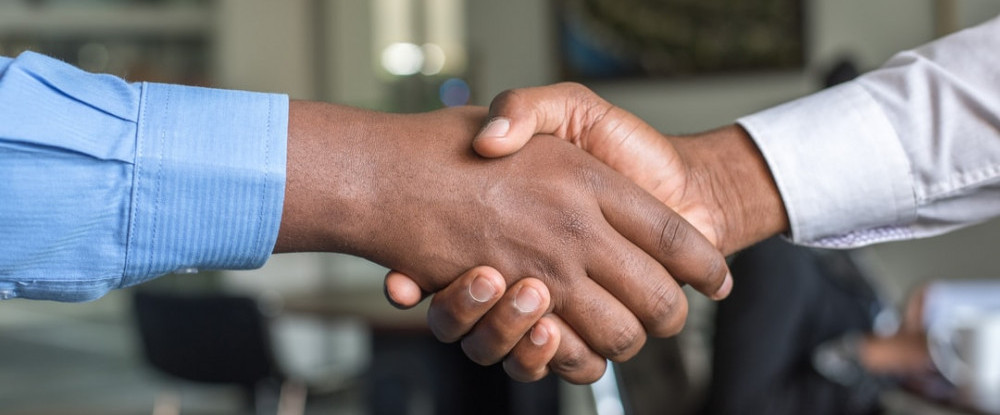 Here is a bit that can be a challenge to get your head around.
Each trade has two sides. There is a buyer who provides the money and there is a seller who provides the item.
When you are entering a futures contract or an options trade, you can decide to be either the person who provides the money or the person who provides the item and if your broker has faith in you, they may be willing to let you enter that contract without you having either all the money you would need or the actual commodity or stocks to execute the future trade. The assumption would be that you would trade out of that position before maturity in the case of a futures contract, or that you would trade out of an option before it expires or it would expire worthless.
Trading in futures or options without having either all the money value or all the stock or commodity item is called trading on margin.
If you are contracting to buy a commodity or an option then you are said to be going long, if you are contracting to sell a commodity or an option then you are said to be going short.
To find out more about ask, bid, and transaction prices, check here.
Here is a single-page PDF summary of what is a trade in the stock market.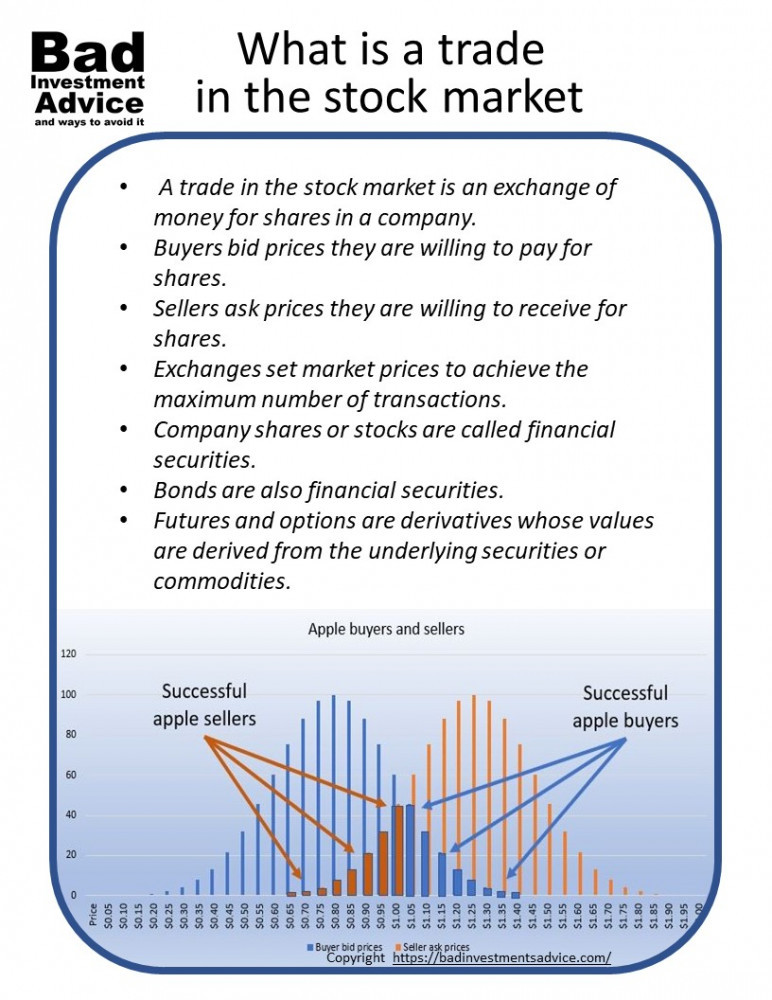 ---
I hope you found this article interesting and useful. Do leave me a comment, a question, an opinion or a suggestion and I will reply soonest. And if you are inclined to do me a favor, scroll down a bit and click on one of the social media buttons and share it with your friends. They may just thank you for it.
---
Disclaimer: I am not a financial professional. All the information on this website and in this article is for information purposes only and should not be taken as investment advice, good or bad.
---
Affiliate Disclosure: This article contains affiliate links. If you click on a link and buy something, I may receive a commission. You will pay no more so please go ahead and feel free to make a purchase. Thank you!
---