So you are looking around at investments, Forex trading, you think maybe you want to become the next Warren Buffet, albeit on a more modest scale perhaps. You are fishing, not phishing, around on the internet looking for the best advice you can find on how to invest money in the stock market.
Well, how about checking out what the masters of the market have to say.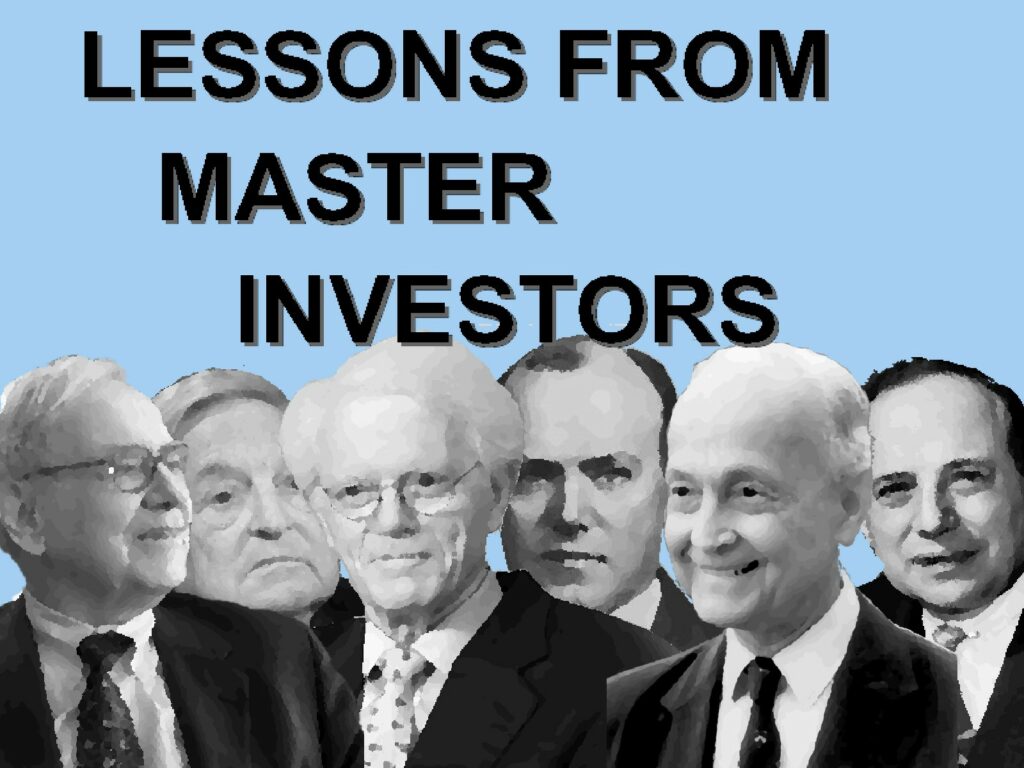 Do the lessons change?
One of the first people to ask this question was a fund manager, author, and a regular contributor to the financial press, John Train who asked the most famous and successful investors around to describe their investment strategies.
I guess he thought that the lessons did change with circumstances as he felt the need to revise and reissue his book. He added new sections and interviewed yet other investment gurus who had emerged in intervening years, riding waves of success on new techniques or with new financial instruments.
Let's remember that the period when John Train was doing his research, the 1970's 80's and 90's saw significant infrastructural changes in the finance world including deregulation and electronic markets.
Mr. Train wrote a sequence of three books. The Money Masters published in 1980, The New Money Masters, 1994 and Money Masters of Our Time issued in 2000. My observation would be that the lessons or their application may have to change to suit circumstances but the principles behind those lessons remain unchanged.
A question of style
Now here's the catch. There isn't one simple list of investing rules specific enough to be practical, in other words, that you could use to go and build a portfolio or trade stocks, that would work for everyone.
Each investor will have their own goals, investment horizon, risk tolerance, and time available, and discipline or lack thereof to apply to the task.
We could say that at one extreme there is the long-term conservative risk-averse investor looking to steadily build a nest egg over a 30-year period, regularly and diligently squirreling away spare savings every month. At the other end of the scale, we can imagine an ambitious trader looking to trade short time horizons, willing to enter risky situations, and willing to learn how to use complex options strategies.
While the same investing principles may apply to both, it is unlikely the same set of lessons and rules is going to work well for each of them.
Different strategies
The investment masters follow several principle approaches to stock market investing, maybe each adding their own flavor.
Long term growth investing – build a portfolio of stocks that are set to grow. Periodically review each stock in the portfolio and as soon as its growth starts to slow or when it looks like it has reached its peak, liquidate that position and look for another growth stock.
Long-term value investing – this approach involves analyzing companies looking for those whose market price is below their intrinsic value. Build your portfolio with these value stocks and eventually, the market will come to its senses and the prices will rise. Monitor the price of each stock and as they approach the true value of the stock, sell and enter a position in other value stocks.
Neglected industries – this approach looks to build a portfolio of stocks in neglected industries and the intrinsic value exceeds the market value. It is a variant of value investing but industry-specific.
Contrarian investing – Bad news is often an excellent trigger to buy a stock. Even better if the bad news turns out to be false. The market tends to over-react to bad news. The reverse also holds true. The market will over-react to good news sending prices to excessive highs. Contrarian investing just tries to do whatever everyone else is not doing.
Outsource – find an investment expert and pay them to invest for you.
Note to self
Is this all? What about day trading, what about moving between asset classes that show the most promise. What about the sector, industry considerations adapted to market conditions. What about investing according to market cycles, in other words moving into different assets depending on whether the market is going up, going down, or sideways. It is also strange that there is no mention of income investing. These are all good questions.
Long-term Growth Investing
There are various issues with growth stocks that will make them riskier while they also offer the potential for more reward. Pity there is no such word as "rewardier".
Growth stocks tend to have a higher price to earnings or P/E ratios than the rest of the market, you need to determine whether that premium is an over or underestimation of where the price should be.
OK, so this is tricky and involves some judgment. One technique is to project earnings growth into the future as compared with the current market P/E and make the assumption that at some point maybe five years out the P/E of a growth stock will converge to the P/E of the market. You set up a table of future earnings over that five-year period and then plug in a discount rate that will reduce those earnings to match the current market price. I tend to do these kinds of calculations by trial and error even though there are clever ways with fancy formulas.
Let's say you calculate that you need to discount the future earnings by 12 percent to match the P/E of the current price, then 12 percent is the equivalent rate of return. You would have to be able to buy other stocks at a P/E of 8.3 to match that return. The P/E of the Standard and Poor's 500 is around 15 or equivalent to a 6.67 percent return so that particular growth stock looks like a bargain, to put it mildly, all else being equal.
Another issue with growth stocks, as has been observed by many including the investment gurus interviewed in Money Masters of Our Time, is that they tend to tank when the market turns from bull to bear.
If you are going to adopt a growth investment strategy, then know the downside risks, monitor your stocks, and the market to get out before you hit the peak. You also need to control your emotions so you don't panic and sell at the bottom either.
Long-term Value Investing
This is the domain of conservative institutions and for many good solid reasons. Institutions, in particular banks, have the resources to objectively and dispassionately analyze company financial's in-depth. This is where they can get an edge on the private investor in their ability to uncover pockets of under-priced intrinsic value. If you are running a pension fund or mutual funds it is also reassuring to your investors to be able to report that you take the most meticulous care of their funds and only place them in high-value quality assets.
Trend Reversal Investing
This is an approach taken by some big names in investing. It involves looking at what is going on around you for major changes in industries, consumer products, infrastructure. Then working out which companies stand to gain from the change and hope you can get in before everyone else does.
Do Something Different
Many of the famous name successful investors made their reputations by doing something different from those who went before. What they did differently changed each time of course.
Short-term Active Investing
Contrary to popular conception, rapid turnover, short time horizon trading is the style of only a few investment masters. It is a very difficult approach to maintain successfully year after year. Also despite what financial advisers with high-pressure sales pitches for their subscription services want you to believe, it is a difficult approach for the private retail investor to pursue successfully and consistently.
The style and approach adopted by the short-term active investor contrasts starkly with the long-term approach, as explained below:
Short-term Active vs Long-term Investor
Enter and exit trades rapidly vs Hold for the long-term
Get in early vs Follow long-term trends
Sell on signs of price drop vs Hold on during short-term corrections
Sell when the price rises vs Hold as long as the company is solid
Constantly seek new plays vs Stay with familiar value holdings
Trade whatever works vs Buy only intrinsic value
Pursue many areas vs Invest only in well-studied areas
Stay flexible vs Stay disciplined
Time trades carefully vs Buy over time
Stock analysts vs Market analysts
If I would point out one sobering observation of this study, it is that good stock analysts tend to be poor market analysts and good market analysts tend to be poor stock analysts. Oh, dear!
Does that mean if I want to become a stock whiz I should forget trying to acquire the skills to read and trade on the market and vice versa? It is a good question and one on which the experts do not agree. So, sorry but the jury is out on that one.
Principles Common to the Masters
Buy only into

stocks

you know something about
Buy unpopular

stocks

Buy only under-valued

stocks

Avoid being spooked into hasty trades
Rather buy one excellent stock than a load of half-good ones
Avoid high dividend

yield

stocks

– good companies should be investing profits in more growth
Be ready to move on when an area the rest of the market previously ignored becomes popular and broadly over-bought.
Copying the Masters
This is where the reporting requirements imposed on institutions can play into the hands of private investors. If you want to copy what a value fund is doing just build a portfolio from the stocks held in their published reports. Because timing is less of an issue with these kinds of assets getting the information a few months late shouldn't hurt too much. We hope.
If you are going to adopt this approach, there are a few simple procedures to follow
Ensure that the companies you are buying have excellent management
Make sure that the institution is buying in for the long term, and that this is not part of some hedging strategy
Make sure that the institution is buying repeatedly into the company
Make sure the institution has a large position in the company, so it cannot offload all the position in one move
If the institution starts selling, leave, and move on.
It is a good approach to adopt, but like all investment strategies, there are risks. Don't forget that the institutional reporting requirements can mean that you will only see when a big institution is selling a position months after they start making those trades.
Things not to do
This is a list of things the investment master does not do, and we shouldn't either.
Don't buy popular

stocks

Don't buy fad or gimmicky industries
As an investor you are not a venture capitalist – don't try to be one
Don't believe that a growth stock really is a growth stock unless you can confirm it still has growth potential. Often

stocks

with a "growth" label are yesterday's stars
Avoid heavy industry unless you are sure of the right conditions
Buy Stocks vs Buy Funds
There are good reasons for buying funds rather than buying individual stocks. If you are starting small you can achieve diversification only by buying into a fund. But that does depend on the type of fund. Some funds are formed just to get on a bandwagon fad of some specific new industry or emerging market region. They may do well one year and poorly the next.
One way a small scale private investor can ensure mediocre results is to shop for the best performing funds and then switch to another best performing fund next year. That will guarantee you buy high and sell low and you will lose in the long run.
In the long run
I'm not going to quote John Maynard Keynes. The sad observation is that most portfolios like most fund managers underperform the market in the long run. The surest way to avoid that fate is to follow the advice and example of the masters.
To learn more about one of the all-time icons of investing, Benjamin Graham, check here.
This article contains affiliate links.
You can purchase a copy of Money Masters of our Time at Books-A-Million.
Here is a single-page PDF summary of How to invest money in the stock market – lessons from the Masters of Investment.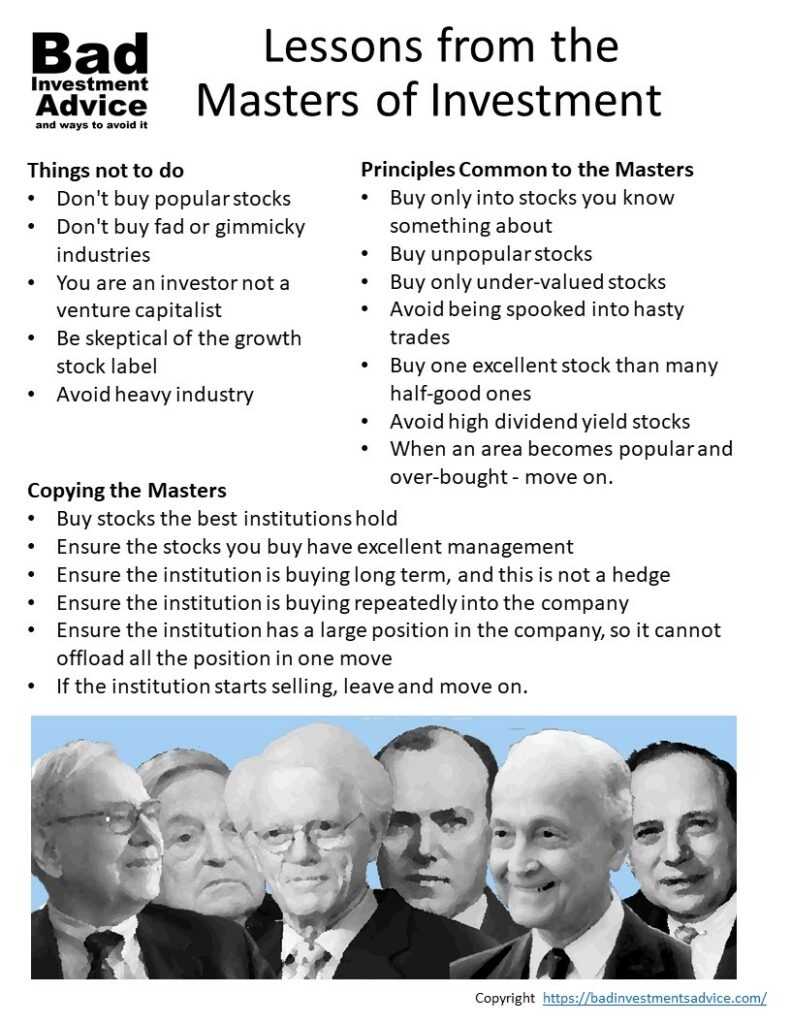 How to invest money in the stock market pdf download
---
I hope you have enjoyed this excursion into the advice of the investment masters. Do leave me a comment, a question, an opinion or a suggestion and I will reply soonest. And if you are inclined to do me a favor, scroll down a bit and click on one of the social media buttons and share it with your friends. They may just thank you for it.
---
Affiliate Disclosure: This article contains affiliate links. If you click on a link and buy something, I may receive a commission. You will pay no more so please go ahead and feel free to make a purchase. Thank you!
---