Have you been looking for recommended debt relief programs? Well, you've come to the right place. Seeking debt relief assistance is not something anyone does lightly but sometimes it is unavoidable.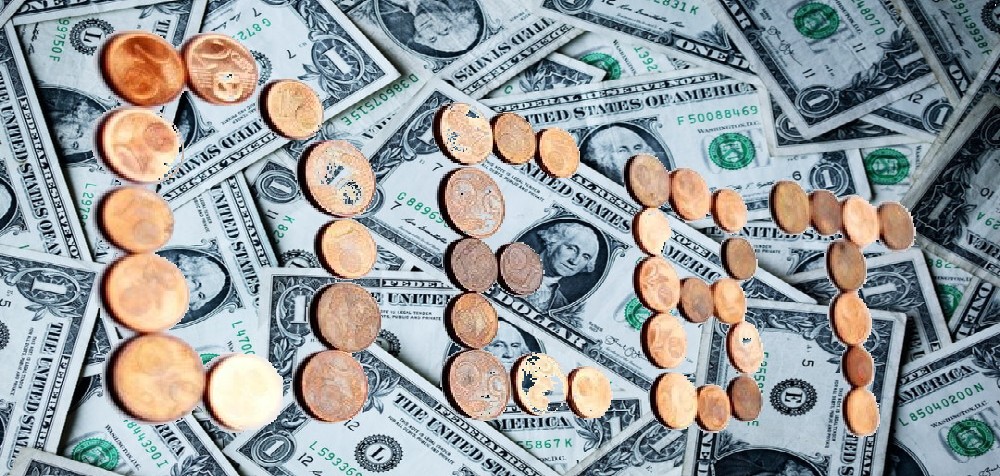 If you've already decided you need to contact a debt relief program, here is a table that should help. Click on any of the logos to go to their website.
This article contains affiliate links
Minimum debt (unsecured)

$10,000
Unsecured debt
Yes
Secured debt
Limited
Tax debt
Yes
Year established
2000
Free consultation
Yes, with a certified debt specialist
Fees as % of debt enrolled
20% average
Key features
Assistance with back taxes
Ratings
Trustpilot
Accreditations
AFCC, IAPDA
US States excluded
CT,ID,KS,LA,ME,MT,NH,
NV,OR,SC,TN,UT,VT, WV,
WY.
Minimum debt (unsecured)

$7,500
Unsecured debt
Yes
Secured debt
No
Tax debt
No
Year established
2008
Free consultation
Yes, with a certified debt specialist
Fees as % of debt enrolled
15 to 25%
Key features
Student & business debt
Ratings
BBB, Trustpilot
Accreditations
AFCC, IAPDA
US States excluded
CT,GA,KS,ME,NH,OR,
SC,VT,WV
| | |
| --- | --- |
| | |
| Minimum debt (unsecured) | $7,500 |
| Unsecured debt | Yes |
| Secured debt | No |
| Tax debt | No |
| Year established | 2002 |
| Free consultation | Yes, with a certified debt specialist |
| Fees as % of debt enrolled | 15 to 25% |
| Key features | Online dashboard |
| Ratings | Trustpilot |
| Accreditations | AFCC, IAPDA |
| US States excluded | 75% of the US is covered |
Minimum debt (unsecured)

$7,500
Unsecured debt
Yes
Secured debt
No
Tax debt
No
Year established
2011
Free consultation
Yes, with a certified debt specialist
Fees as % of debt enrolled
14 to 25%
Key features
Online enrolment and service
Ratings
BBB, Trustpilot
Accreditations
AFCC, IAPDA
US States excluded
CO,CT,DE,GA,HI,IL,
KS,ME,NH,ND,OR,
RI,SC,VT,WA,WI
Minimum debt (unsecured)

$10,000
Unsecured debt
Yes
Secured debt
No
Tax debt
No
Year established
2007
Free consultation
Yes, with a financial expert
Fees as % of debt enrolled
20 to 25%
Key features
Extra educational resources
Ratings
BBB, Trustpilot
Accreditations
AFCC, IAPDA, USOBA
US States excluded
CO,CT,DE,GA,HI,ID,IL,
KS,ME,MN,MS,MT,NV,NH,
NJ,ND,OH,OR,RI,SC,SD,
TN,UT,VT,WA,WV,WI,WY
Some things to know
Most of us, as adult human beings, are reluctant to swallow our pride and accept that we need help with managing our money. It is good to be aware that some of the measures we may need to take to better manage debt can result in a lower credit rating. So we are right to be cautious.
However, and this is an important fact to be aware of, most debt relief programs offer confidential debt counseling by a certified debt consultation professional at no cost. These can be private and confidential conversations between you and the counselor. Nobody else needs to know about that conversation. Neither your employer, nor friends, or neighbors and not even family members if you so decide.
The sad fact is that most people who encounter problems paying off debt don't reach out for help until the situation has deteriorated and become critical. This is likely to put you under additional stress and render the choices you have to make more rather than less troublesome.
Approaches to eliminating debt
There are many approaches to managing and eliminating your debt and everybody's situation is unique. It is easy to get lost in a maze of terminology. I will not drag this out, but here are some straightforward definitions that should help. As you will see some of these overlap.
Do it yourself
This can be as simple as tracking your outgoing expenses. Write down every single expenditure, no matter how small. categorize everything that is essential, like rent or mortgage, regular bills, food. Then in another category the non-essential expenditures like dining out, entertainment, or impulse purchases.
The next steps are rather obvious. Can you curtail or eliminate the non-essential expenditures? This is where you run the numbers and plan a way forward to see if you can pay off your debt and how long it will take.
Contact your creditors
Do it yourself can also mean that you contact your creditors and seek to negotiate different payment terms that will work better for you. This could be to delay payment for a while, reduce the rate of interest being charged, extend the period over which repayment is due.
If you are experiencing serious trouble making payments, due to difficult circumstances such as medical emergencies, changed work situation,s or whatever reason, contacting your creditors before you get behind is one of the first things you should do.
Debt negotiation
Debt negotiation is where you or a debt relief agency working on your behalf negotiates more preferable terms for you to pay off debt. It could involve forgiving you some or all of the debt. Often a debt repair agency will be better placed to negotiate preferable terms for you.
Debt collection agent
These are companies that take on the task of collecting debt on behalf of others. In the US there are federal rules they have to abide by but they will often resort to aggressive and scare tactics to get you to pay up. As many of us know from experience, it can be intimidating being hounded by debt collection agents.
Debt settlement
Debt settlement is where either the loan is settled in accordance with the terms of the loan or new terms are negotiated.
Debt forgiving
Debt forgiving involves reducing all or some of the principal sum of a loan. It is a term that is often used in the context of sovereign debt when a countries loans are forgiven by lenders often involving the World Bank or the International Monetary Fund.
Debt management
Debt management is a general term that means managing debts. It can be any combination of measures to pay off or eliminate debt.
Debt relief program or service
Debt relief programs or services are agencies that assist you and intervene on your behalf to negotiate preferable terms with your creditors to your benefit. This often includes debt consolidation.
Debt consolidation
Debt consolidation involves paying off retiring or forgiving some loans and setting up a new loan to pay off the newly negotiated terms, if any, with the original creditors. Debt consolidation arrangements are usually what a debt relief program or service provider will do for you. You can also make your own debt consolidation arrangements if you know your way or are willing to try to navigate your way around these things.
Debt servicing
Debt servicing just means paying down debt in accordance with the terms of the loan.
Declaring bankruptcy
Declaring bankruptcy either under chapter 7 or chapter 13 is something you have to do in federal court and will involve attorney fees. In the US new laws came into effect in 2005 giving greater protections under chapter 13 making it more attractive than chapter 7. If you have a job with a steady income you may be eligible for chapter 13 and your creditors will likely not be able to repossess certain assets or foreclose on your home.
Chapter 7 will normally involve the liquidation of all your non-exempt assets. The exempt assets will be just the essentials that you need like your home, car, essential furnishings, and things you need for work.
Bankruptcy will have long term effects on your credit rating and will stay on your records for 10 years. It will make it more difficult to get a mortgage on a home, buy a car, or even to get a job.
Secured and unsecured loans.
A secured loan is a loan that attaches a lien to an asset. Real estate mortgages and car loans are examples of secured loans. Personal loans, credit card debt and student loans are examples of unsecured loans.
Secured loans will usually carry lower rates of interest than unsecured loans.
It will usually be easier to negotiate new terms on an unsecured loan than on a secured loan because there is a greater risk of default on an unsecured loan. On a secured loan the creditor just has to repossess the asset, e.g. foreclose on your house or tow your car away.
What debt relief programs do
A debt relief service or program will usually negotiate better terms with your creditors for you. They will often also consolidate your debt into one loan and set up a plan whereby you stop paying your creditors but make regular payments to the debt relief agent instead and they make payments to your creditors.
What they all offer
Researching all the main debt relief providers you see some very clear common threads. User-friendly and professional excellent customer service is one of the cornerstones of success in this business. So if their customer service doesn't sparkle, hang up the phone and look for another.
If you are looking into using a debt relief program, you need to look for many positive testimonials from satisfied customers. As important as positive testimonials will be records of how they handled and resolved customer complaints.
All the major debt relief providers have customer track records of relieving debt for as low as 20 percent of what was owed. All the good ones also offer some kind of money-back guarantee. A typical repayment plan set up by a debt relief provider will take you between two and four years to pay off.
The other criteria to check is how long a debt relief provider has been in business. In order to gather a meaningful body of satisfied customer testimonials, you should be looking for a provider who has been in business for at least five years and better for ten years.
What they don't all offer
Where one debt relief provider distinguishes itself above others is either handling debts or loans that the others don't or negotiating better terms and providing even better customer service than the others.
Since each individual debt situation is unique it is actually not that straightforward comparing the rates terms and conditions one provider is able to negotiate with your creditors versus another. You will need to commit to using a particular provider and enter a contract with them before they can start negotiating with your creditors.
Red flags
When you are shopping around for a debt relief program there are some red flags to watch for. Look out for anything in their promotional material that looks like an unrealistic promise. Here are some obvious red flags, avoid any provider who says
They guarantee to eliminate your debt or settle it all for a small fraction of its outstanding value
Tries to charge you fees before they settle your debt
Says they can stop or prevent lawsuits from your creditors
Tells you to halt all communication with your creditors, without explaining what can happen if you do
Tell you that all creditors will settle terms with them
Federal Trade Commission Consumer Information
The Federal Trade Commission has some excellent advice on managing debt, dealing with debt collection agencies and with debt relief services, and what declaring bankruptcy under chapter 7 or chapter 13 involves.
Questions and answers
Q. Do debt relief programs provide value for money?
A. Do your research. A debt relief provider may be able to negotiate better terms with your creditors than you can. Run the numbers. Make sure you benefit as much as they do from that whatever plan they propose to you.
Q. How long does it take to get out of debt using a debt relief provider?
A. It typically takes between two and four years to pay off a debt relief plan after one has been set up.
Q. Will using a debt relief program damage your credit rating?
A. A debt relief program will usually involve them setting up a loan that consolidates your other debts. This will only work if your creditors accept less favorable repayment terms. Once they do that it will impact your credit rating. You will be able to restore your credit rating much more easily after you have paid off a debt relief program than you would if you had declared bankruptcy.
Single-page summary
Here is a single-page PDF summary of recommended debt relief programs.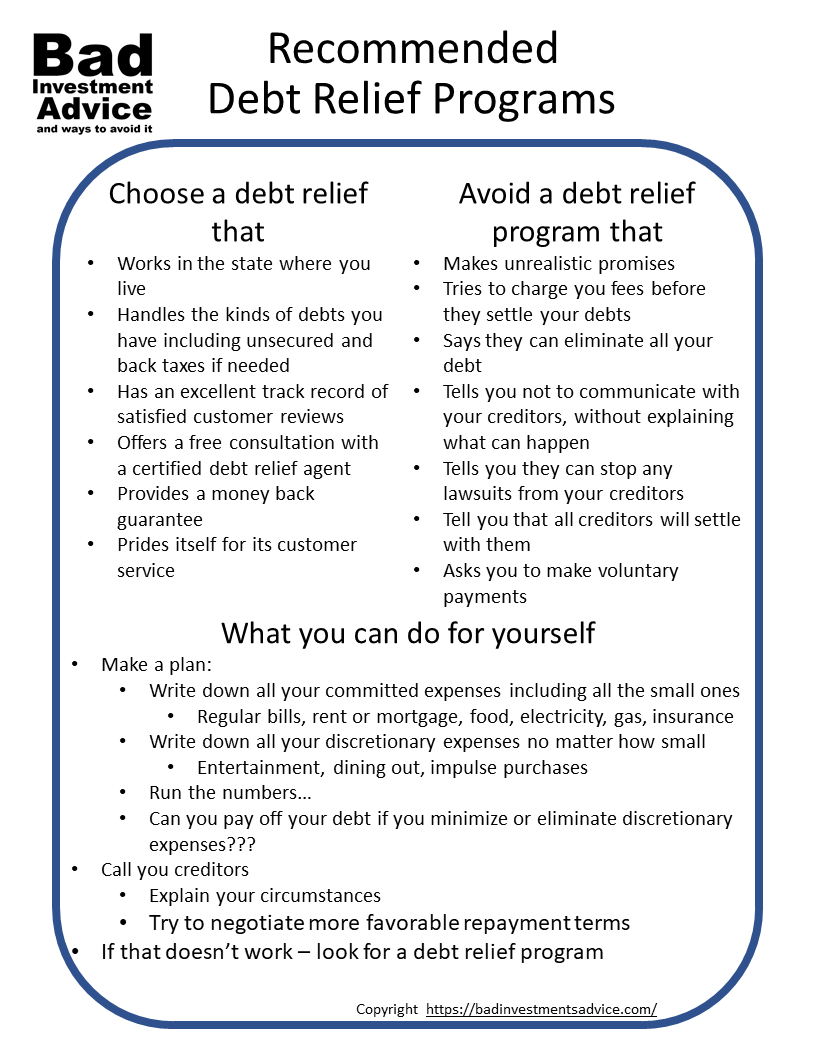 ---
I hope you found this article interesting and useful. Do leave me a comment, a question, an opinion, or a suggestion and I will reply soonest. And if you are inclined to do me a favor, scroll down a bit and click on one of the social media buttons, and share it with your friends. They may just thank you for it.
---
Disclaimer: I am not a financial professional. All the information on this website and in this article is for information purposes only and should not be taken as investment advice, good or bad.
---
Affiliate Disclosure: This article contains affiliate links. If you click on a link and buy something, I may receive a commission. You will pay no more so please go ahead and feel free to make a purchase. Thank you